Azza Blizzard 120 Review
Introduction
With the Blizzard Lineup, Azza is stepping into the Budget-oriented CPU All in One Liquid Cooler Lineup. But Azza did its homework! With a stunning RGB Fan and a glowing Waterblock, Azza tried to not only deliver on Performance but also on looks. Let's take a closer look!
At this point, we want to mention that there are currently 2 different Azza Blizzard 120 versions going around. Very recently (End 2020) Azza released an updated Azza Blizzard Series. The 120,240, as well as 360 Model, got some tweaked here and there. To sum up the changes, the following differences can be found:
New Waterblock Design
Hurricane 3 instead of Hurricane 2 Fan(s) included
Longer Tubes (400mm)
The pump is a bit quieter but weaker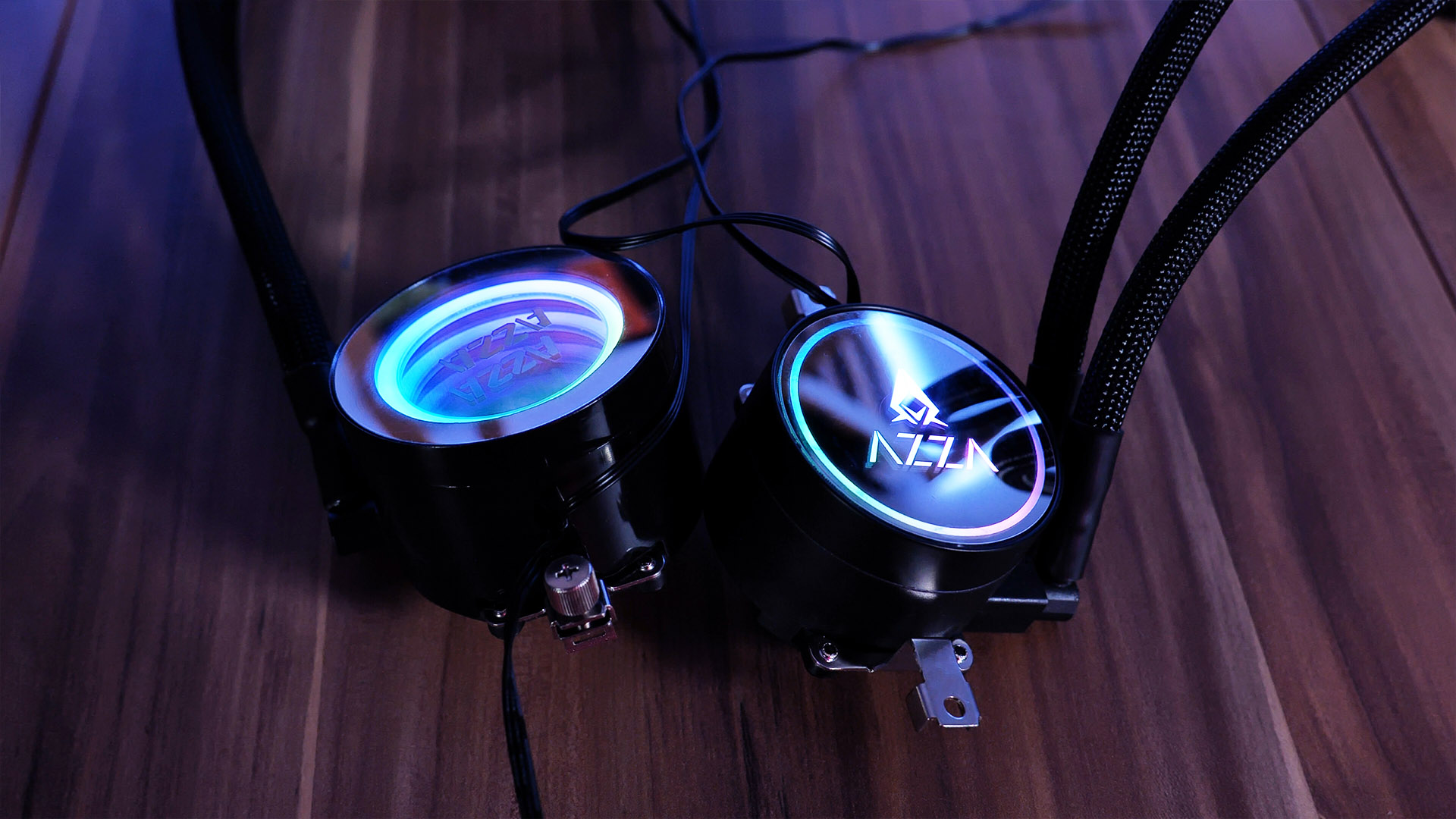 As we had multiple versions of the Blizzard Lineup at our disposal, we can generally say, that except for the Design, there is not much of a difference. The better Fan compensates for the weaker pump, making the AIO Perform (+-1°C in our Benchmarks).
Because generally, the Design is the only difference between the older and newer version. This review will be focusing on Both versions, while the statements made about the AIO are focusing on the newer version.
Positive
RGB Fan
RGB Waterblock
Supports most relevant Sockets on AMD and Intel
RGB Controllable
Negative
Performance
AMD Installation
What's in the Box
As most other AIO, Azza Blizzard's packaging includes a couple of images of the AIO as well as a short overview of its features.
On the Backside, we can find a complete Specsheet, but we summarized the most important points below.
| | |
| --- | --- |
| Radiator Dimensions | 154x120x27mm |
| CPU Waterblock Dimensions | 78.4x87.9x52.9mm |
| Tube Length | 321mm |
| Fan | Azza Hurricane II |
| Fan Size | 120x120x25mm |
| Fan Performance | 1800RPM/43.06CFM/29.0dB |
| RGB | 3-Pin Addressable by Motherboard software / Remote |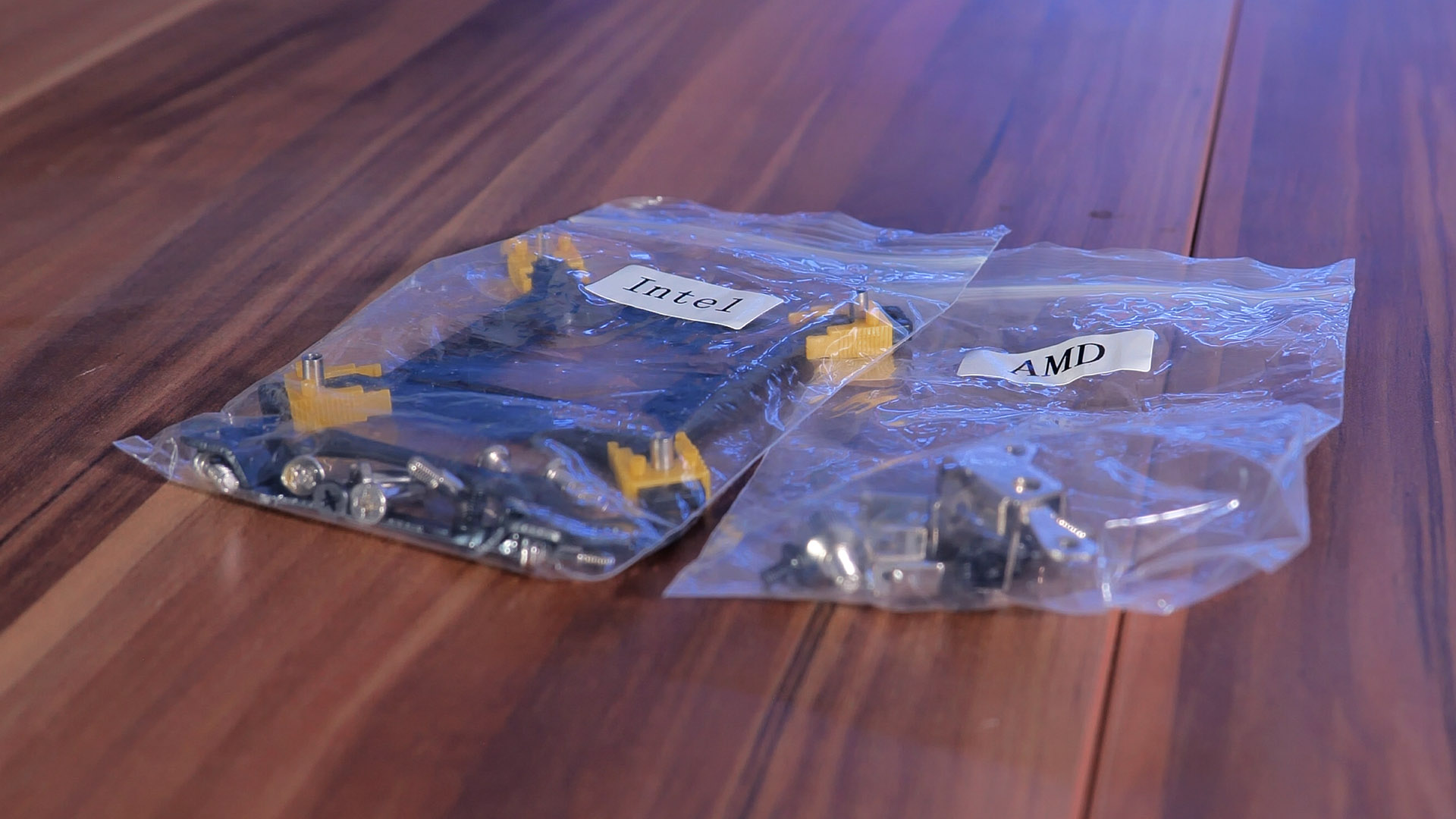 Once opened, we found the usual Carton basket that contains the complete AIO, Fan, Installation Material, and Manual.
Everything is wrapped in its own plastic sheet. In total, the Box contains the following Items:
Azza Blizzard 120
Azza Hurricane 2
RGB Remote
AMD Brackets
Intel Brackets (with backplate)
Thermal paste syringe
Fan Screws
Radiator Screws
Manual
We just want to quickly point out that there is no Thermal paste pre-applied, but Azza included a small syringe containing Thermal Paste in the bag of goodies.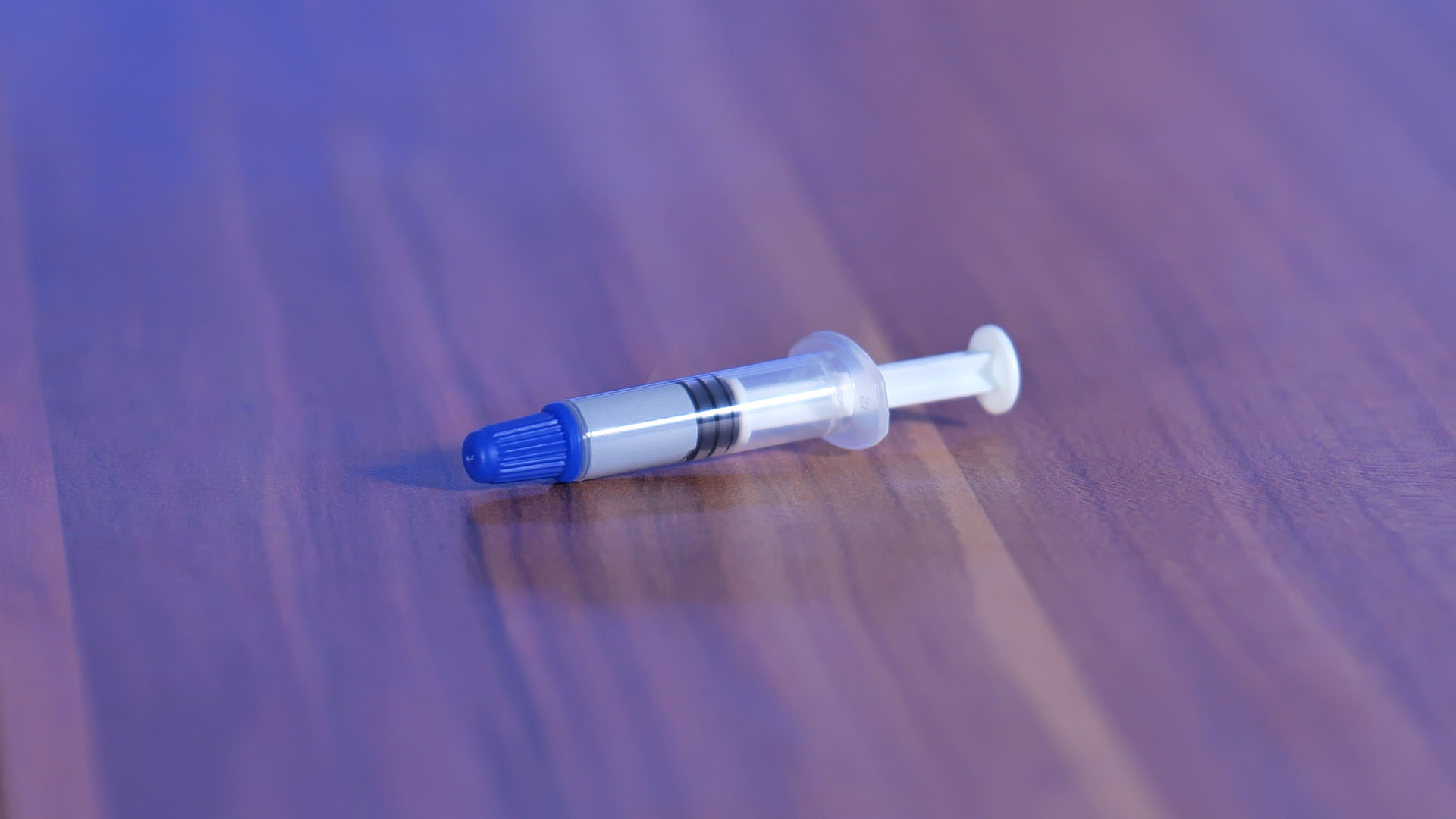 Compatibility
In terms of compatibility, Azza tried to cover as much as possible. With support for almost every, and probably every relevant, Intel and AMD socket, most people should be able to use the Blizzard 120 with their current hardware.
Below we added a complete list of every compatible Socket.
| | |
| --- | --- |
| Intel | AMD |
| LGA 2066 | AM4 |
| LGA 2011-v3 | AM3+ |
| LGA 2011 | AM3 |
| LGA 1366 | AM2+ |
| LGA 1156 | AM2 |
| LGA 1155 | FM2+ |
| LGA 1151 | FM2 |
| LGA 1150 | FM1 |
| LGA 775 |   |
Individual Components
Radiator
In order to cool the internal Water down as much as possible, Azza used a 27mm thick radiator.
Except for the Radiator being pretty thin compared to other AIO's, there is nothing noteworthy about it. It's a black Radiator.
Waterblock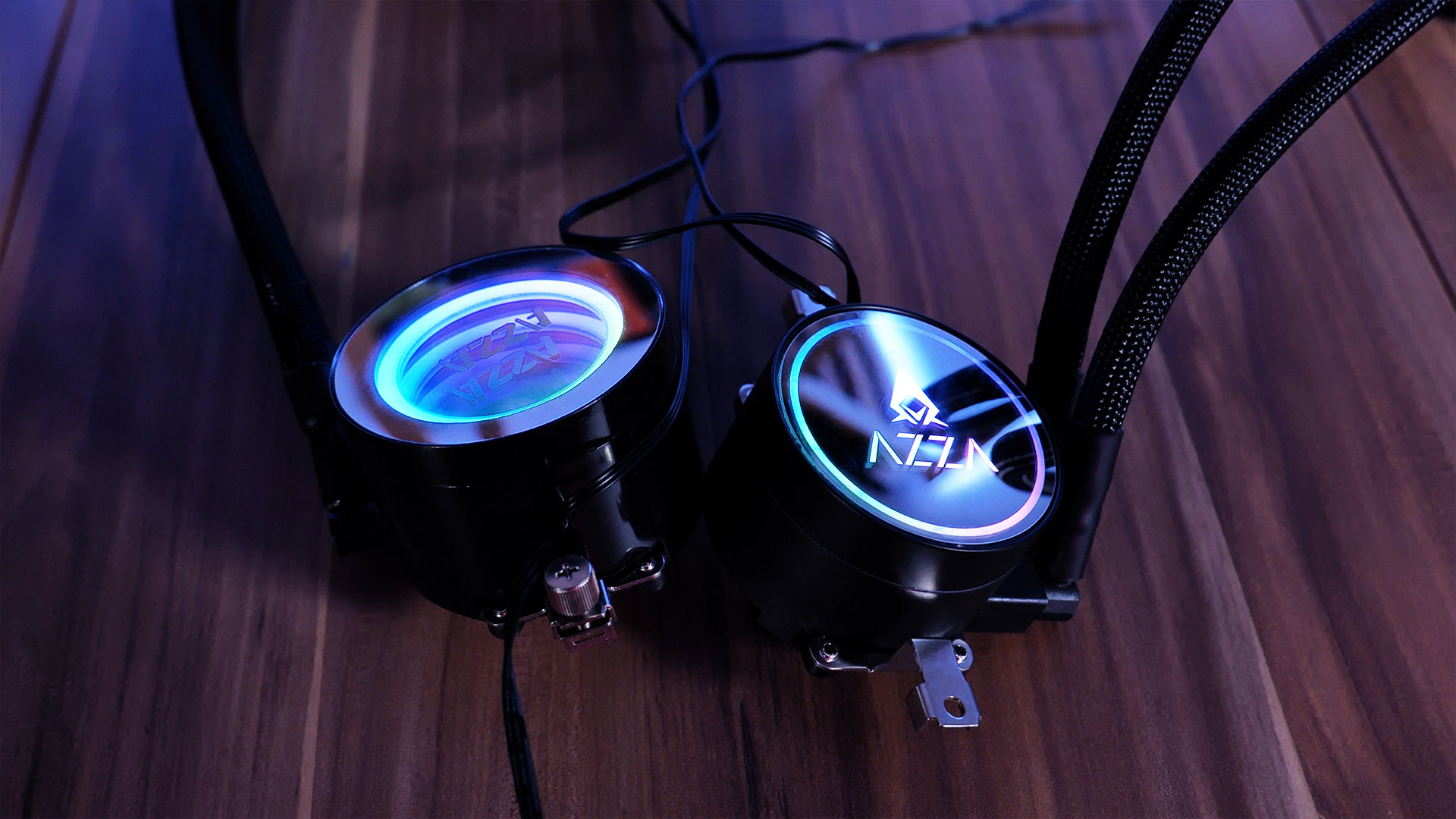 Ignoring the actual Performance, one of the main Selling points of an AIO is its Waterblock design.
(Fortunately) Azza ditched the older company Logo and weird-looking, not really working infinity Mirror in favor of a new and clean Company Logo with an illuminated ring around the whole block.
Overall, the new design looks sleek and up-to-date, making it easy to integrate into a 2021 PC.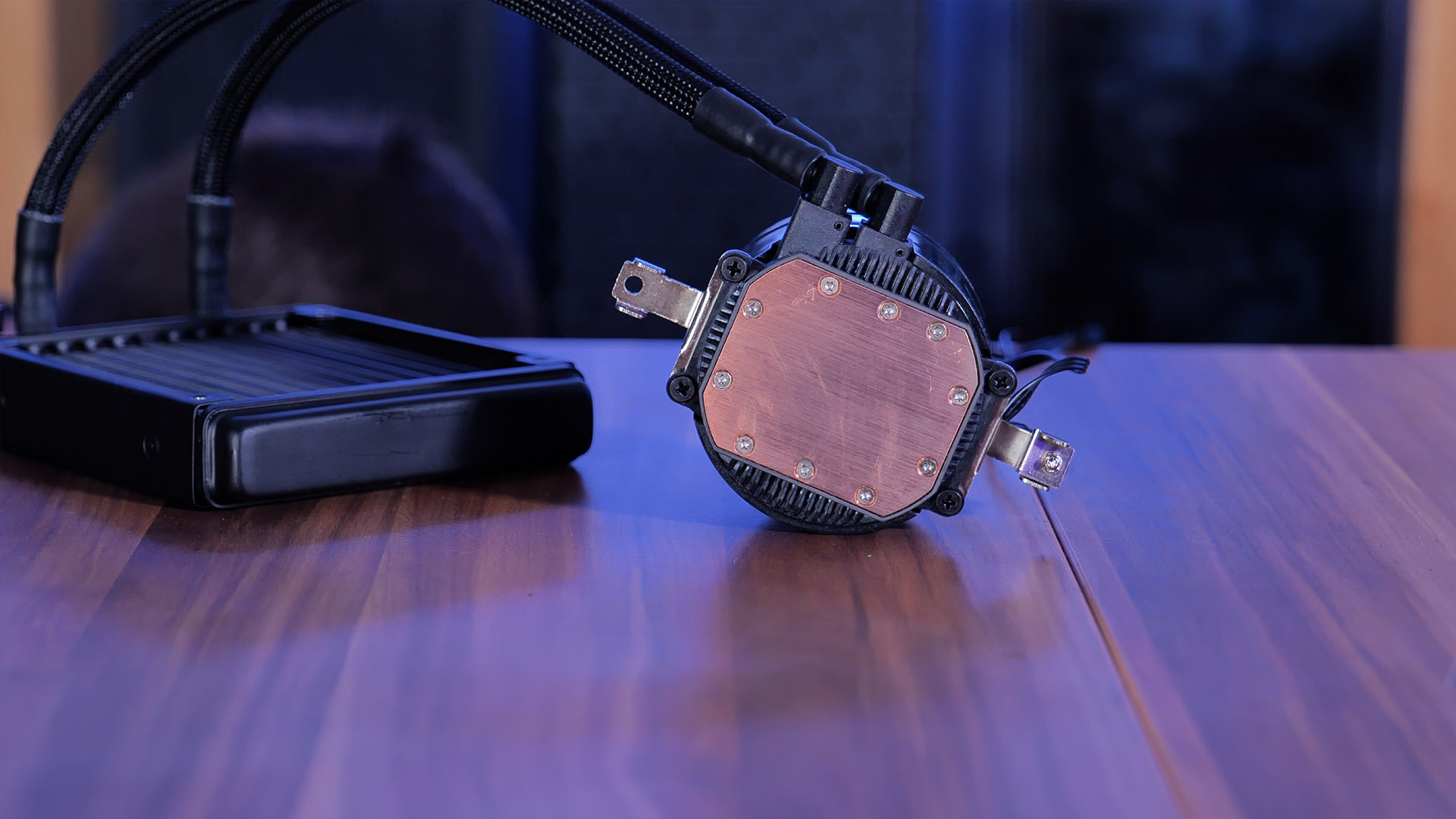 Behind all the Lights and Design is an unnamed pump that is being controlled over 3 Pin Fan Header.
In order to control the RGB, Azza made sure to be as un-proprietary as possible by using a 3-Pin 5v Addressable RGB Header. To our very delight, the RGB Header comes with both a Male- and Female- Port, giving you the possibility to daisy-chain the RGB to other devices.
Fan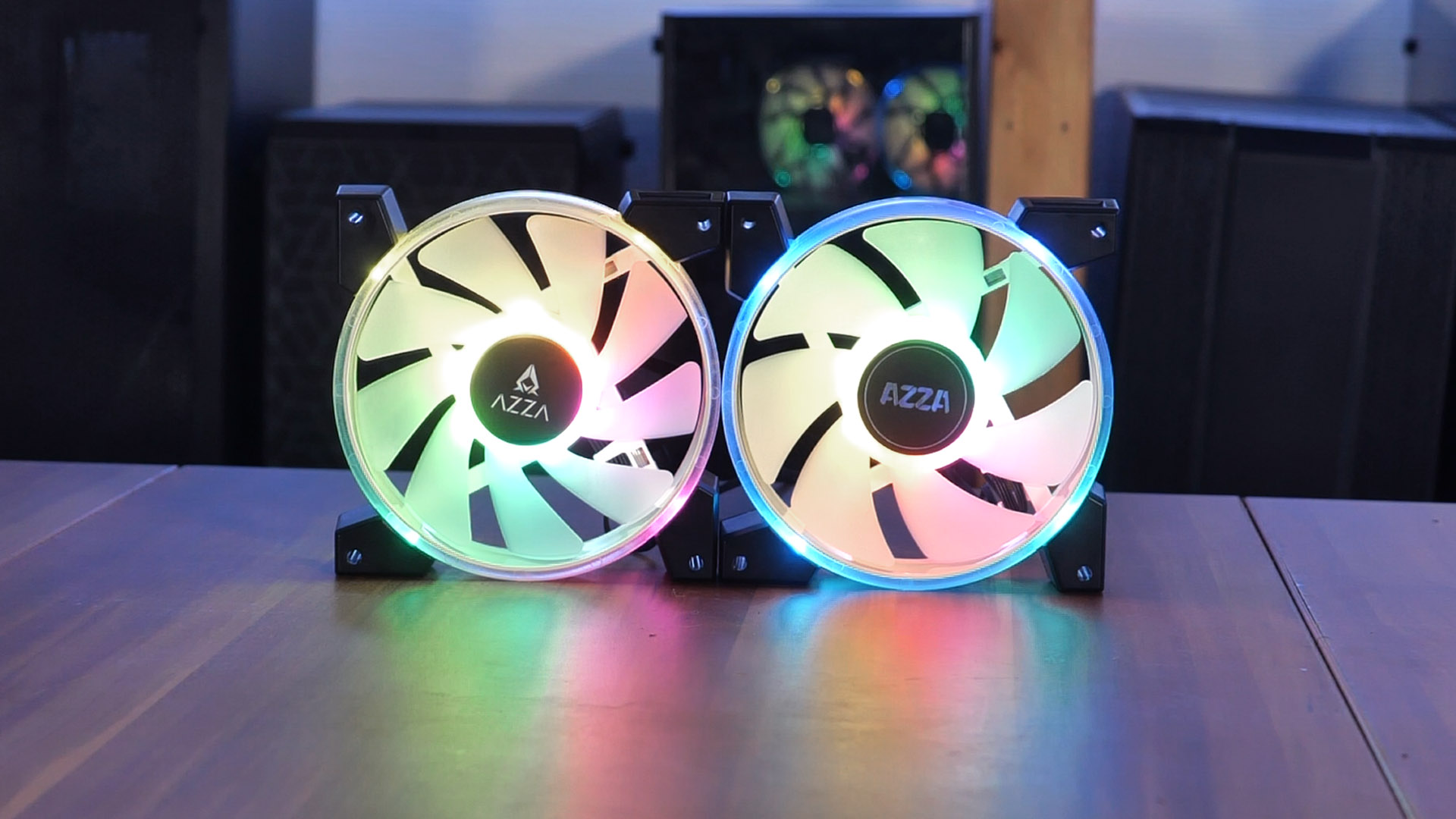 In Terms of Fans, Azza includes their own in-house Hurricane Lineup.
If you get one of the newer versions, it will be a Hurricane III fan, while the older version still came with a Hurricane II.
| | |
| --- | --- |
| Name | Azza Hurricane III |
| Speed | Up to 1800RPM |
| Airflow | 49.1CFM |
| Sound | 26.29dbA |
| Static Pressure | 1.91mmH20 |
| RGB | Outer Ring and Inner Circle |
| Connection | 4-Pin PWM for Fan 3-Pin 5v for RGB |
Overall, the Azza's Hurricane III Fans are far from being "bad" fans. But our experience showed us that fans benight 2000RPM, that do not come with a Static pressure higher than 2mm, or an Airflow close to 100CFM, do not make very good Watercooling Fans.
But we do not want to be prejudicial, so we gonna keep an open mind.
On the Design side, the Hurricane III (or II) looks pretty RGB-isch. The White Wings and outer Ring allow for the RGB Colors to be evenly spread and light the whole fan in whatever color you want. 
Tubes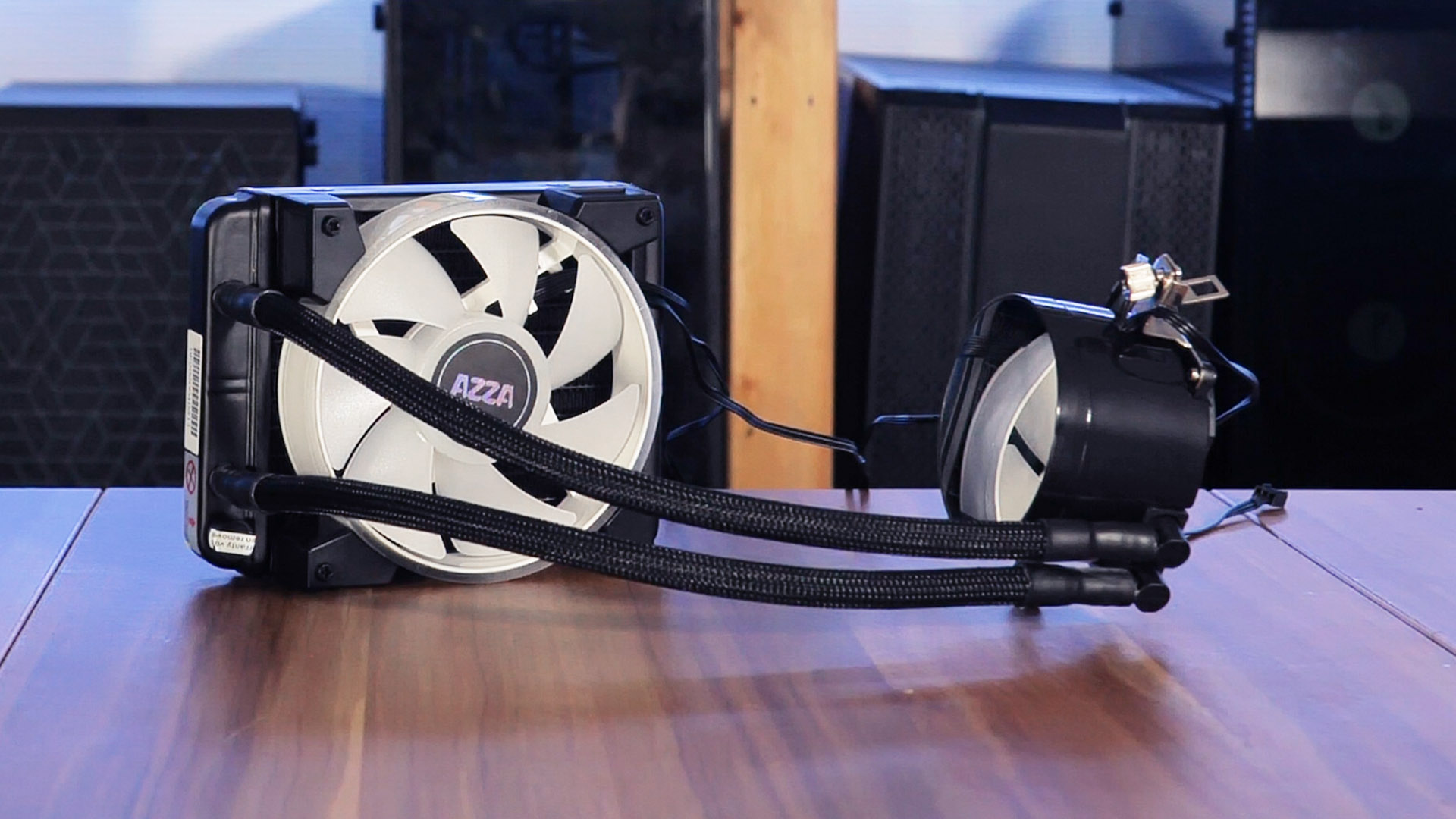 Even if the tubes are 400mm long with the newer version and the connections are adjustable at the Waterblock, we are still quite unhappy with them. They still feel cheap and do not provide you with any "premium" Product feeling.
Additionally, we need to point out that the Tubes of EVERY Modell are 400mm Long. This means that there will be absolutely no way to install the 360mm model in the front of a case with the Tubes going down. 
Installation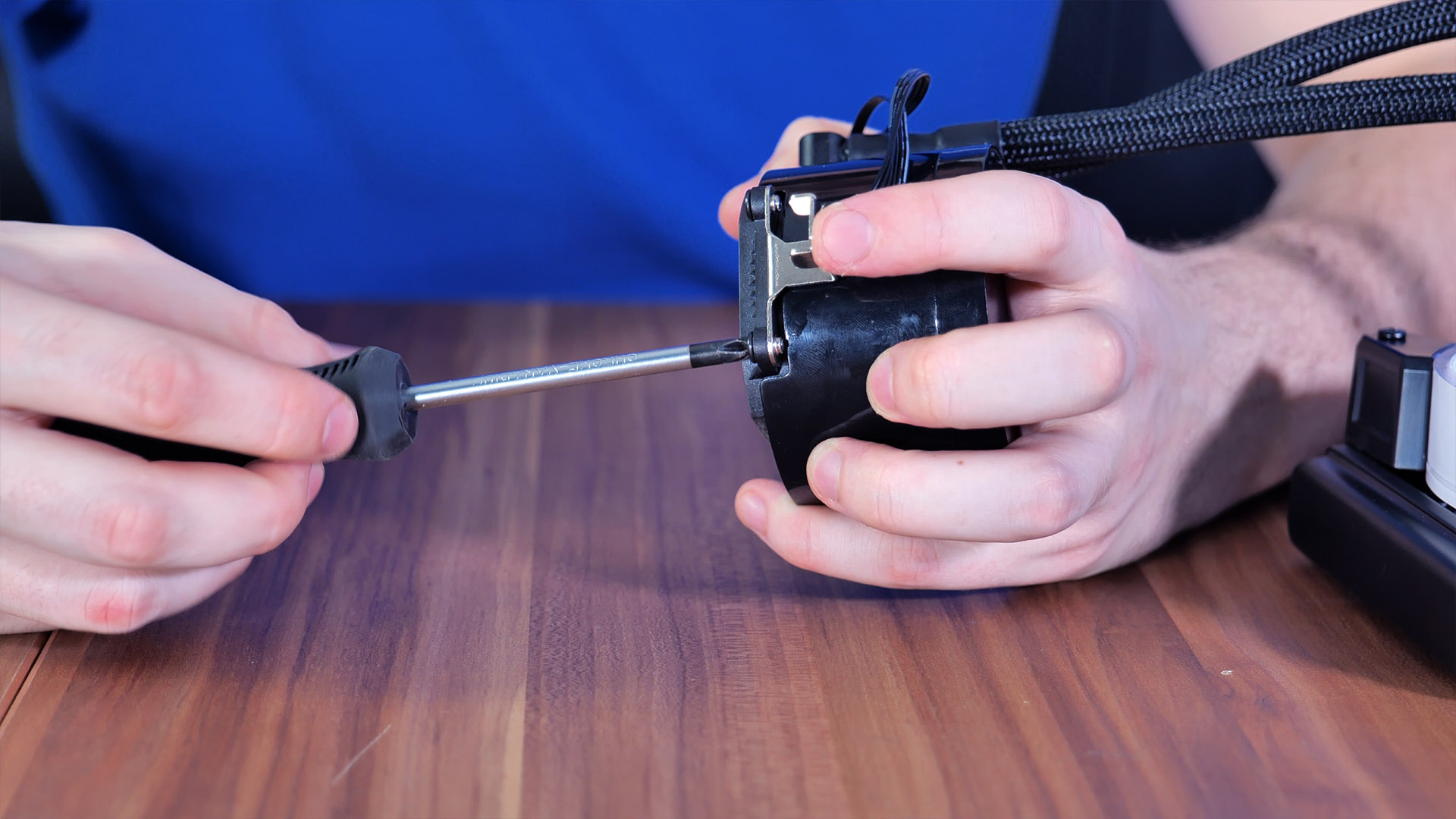 Installing the Azza Blizzard 120 is a fairly easy job.
Inside the Box, we will find Bags that are marked appropriately "Intel" or "AMD".
For the Intel Users, you only need to place the provided Backplate, screw in the Standoffs, attach the Brackets to the AIO, and you're done.
On the AMD side, there is even less to-do. Azza made sure to re-use the original AMD Backplate and Brackets, which means that the only thing we had to prepare is the brackets on the water block.
To install them. we needed to position them appropriately from the top going down and screw in the screws from the bottom.
After using the included Thumb-Screws, the AIO was installed within a couple of minutes.
Even though we really enjoyed reusing the original Hardware, we cannot ignore that the Finished installation looks like it would break any minute. The installation process forces you to bend the Holding plate to a degree that does not look healthy to us. Though we also want to point out that we installed the AIO multiple times into multiple systems and there is not 1 piece that broke or was bend permanently.
For those that do not have a 5v RGB Header on their Mainboard, Azza has your back. Inside the box, we can also find a little RGB Remote that can be hooked up to one of the Fans or Pump and Sata for power.
The button on the Remote then lets you switch between various RGB modes. Even if we did not need this feature, we think it's a great addition in order to include everybody.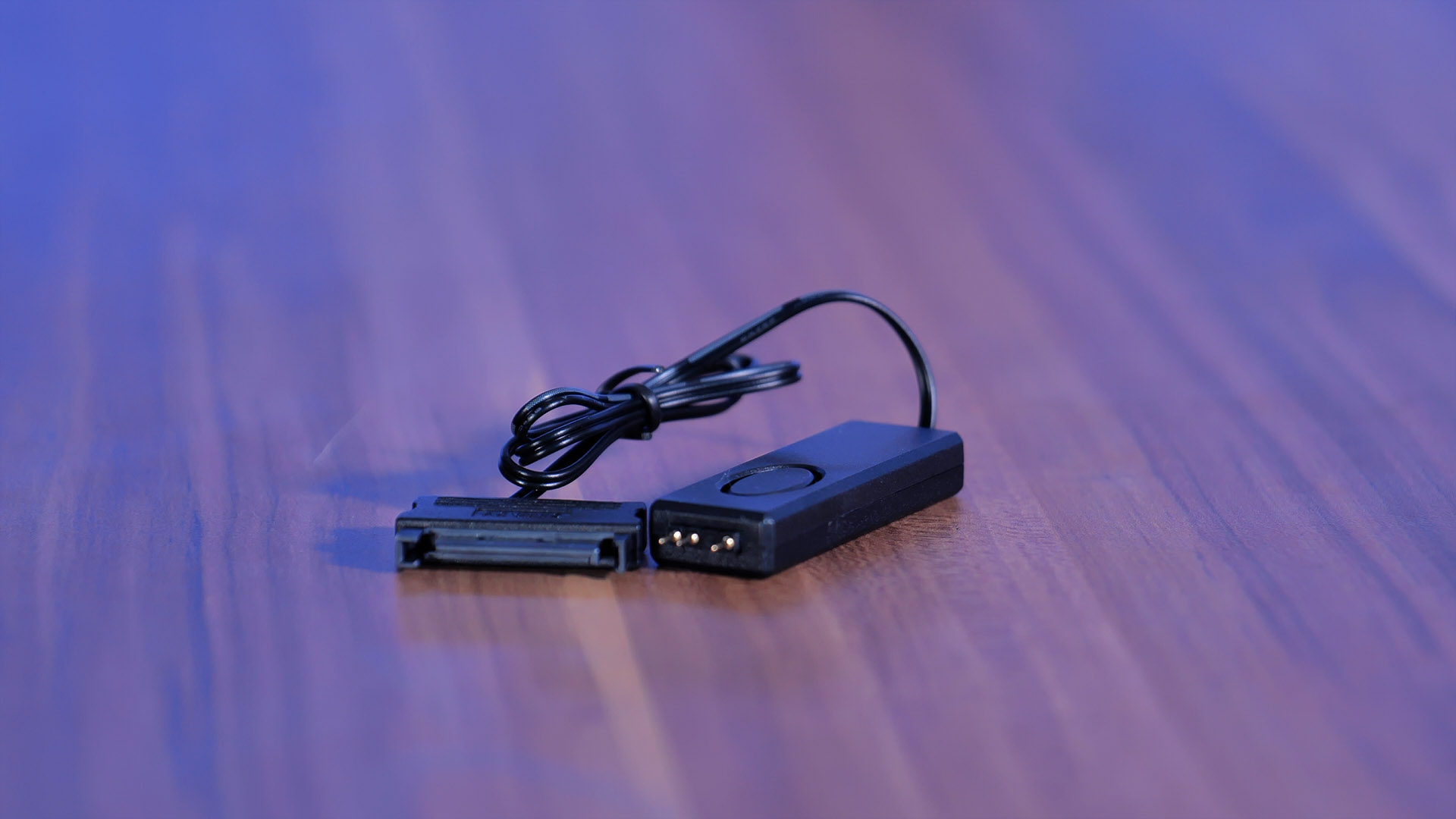 Appearance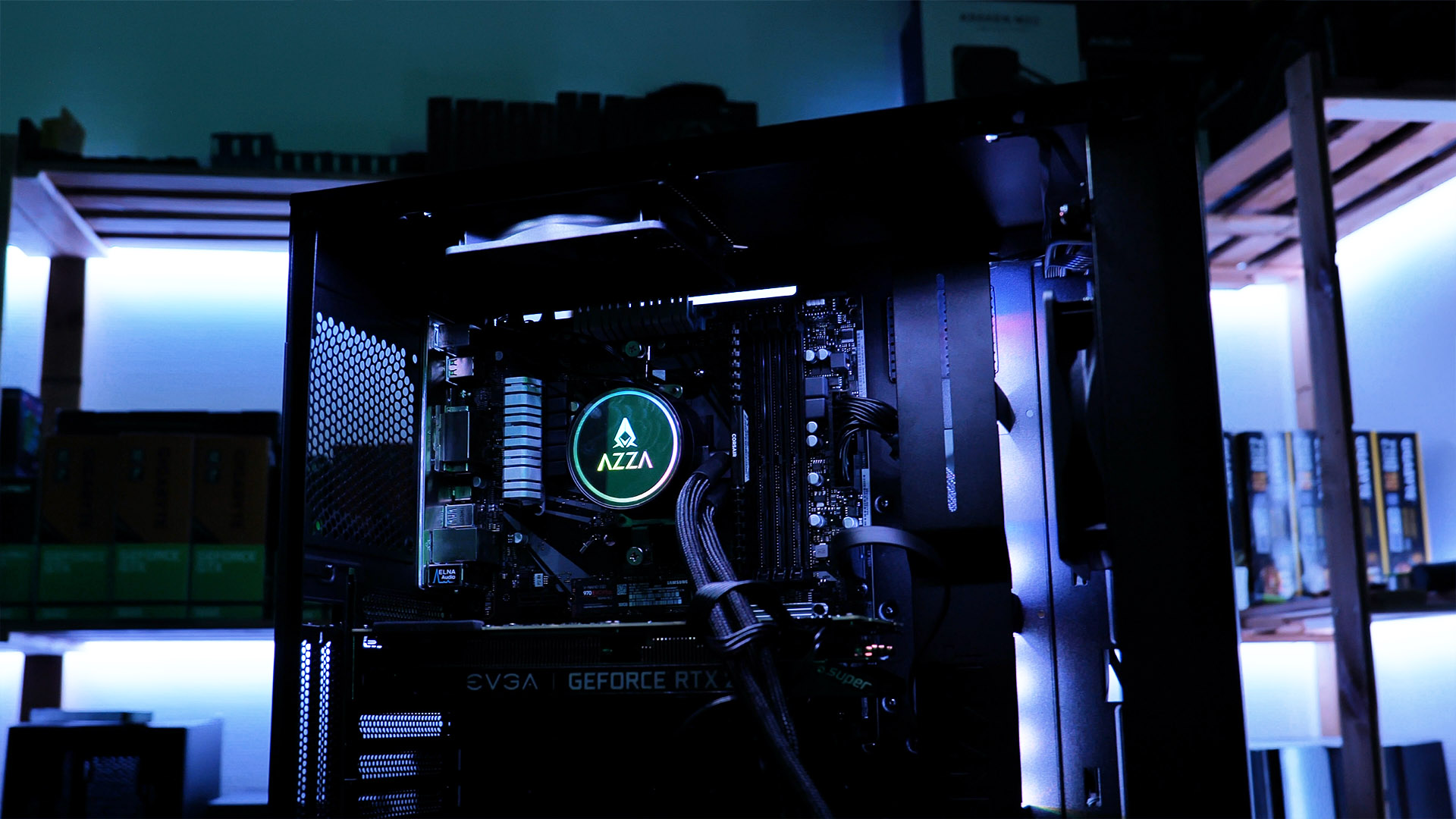 While we were absolutely no fan of the original Blizzard 120 Design. The newer and updated version does look very nice.
The slick and clean Logo cutout with its outer-RGB Ring illuminated the PC in a very conservative matter, leaving a clean build.
The RGB Fan contributes to this, though it is able to shiny relatively bright next to the water block.
Overall we are quite happy with the new design. It is clean, it looks good and it is easy to integrate into any build.
Benchmarks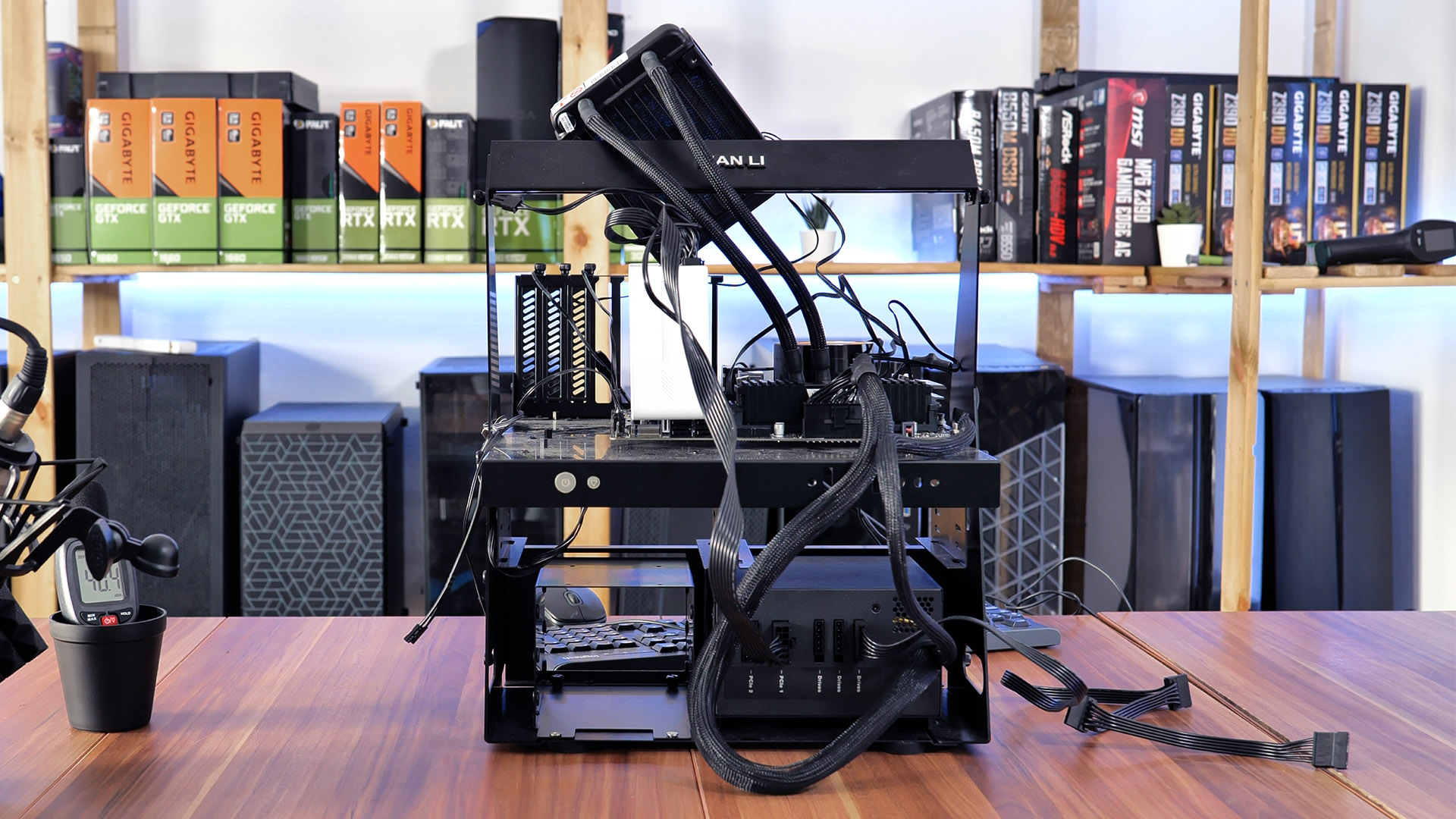 As good as an AIO can look, it has to perform.
So we dusted off our Testbench and used our Ryzen 3700x with 4.5GHZ and 1.4vCore. Then we ran HeavyLoad for about 30 Minutes and compared the Temps and noise level.
For the amount of noise, we are quite baffled as the new version does not produce the amount of noise that we were expecting from a Budget-oriented 120mm. Neither the Fan nor the Waterblock was particularly loud, making the Azza Blizzard 120 a tiny bit louder than the NZXT Kraken M22.
On the Performance side.... well yes.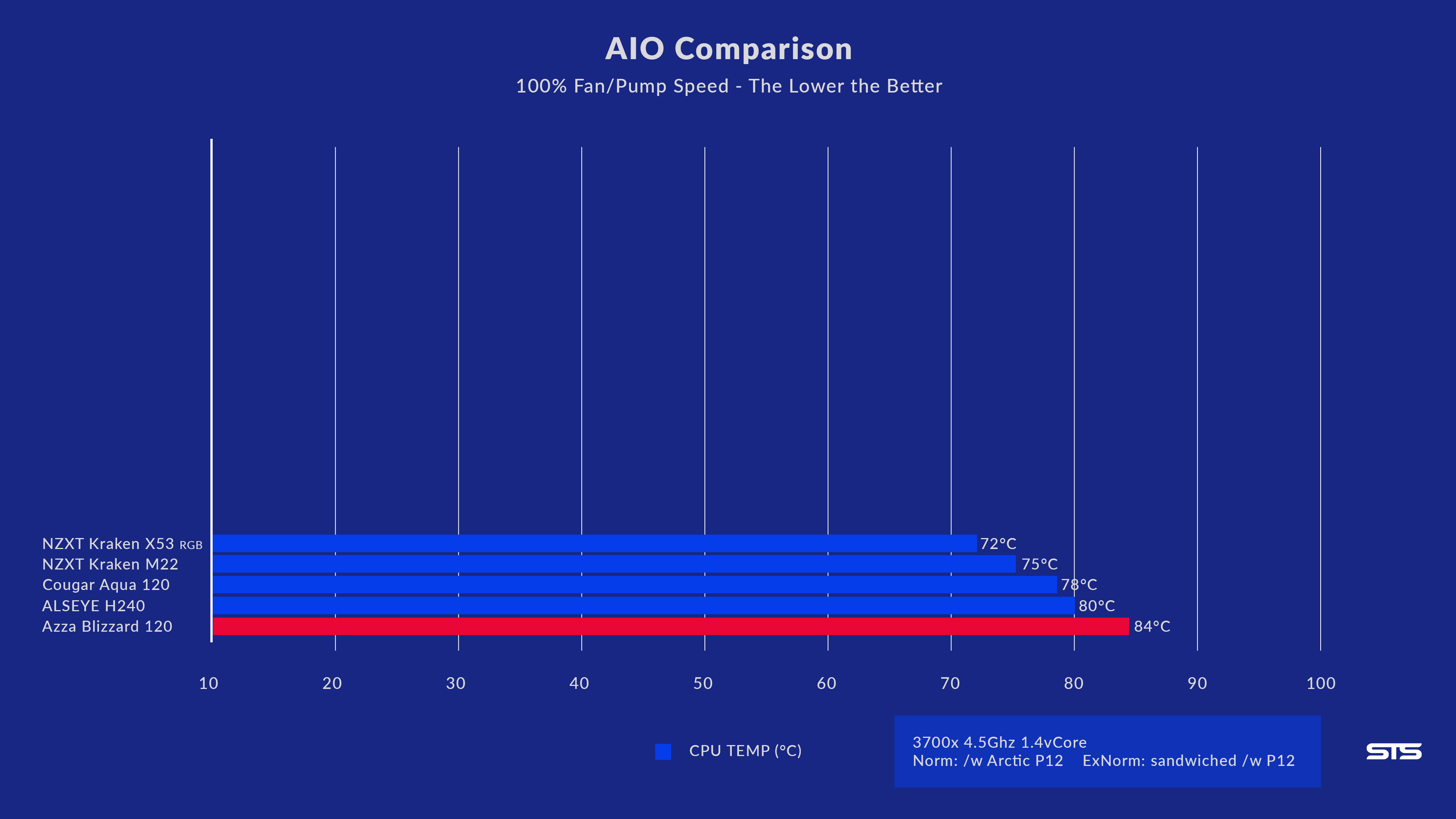 The Azza Blizzard 120 marked the (new) last spot on our list with 84°C. A Result with which we are quite unhappy.
As we mentioned before, we do not think that the Azza Hurricane III fans are particularly good for Radiator operations.
For this reason, we also Normalize our Tests with Arctic P12's.
With 1x P12 instead of the usual Hurricane, the Temps fell down to 82°C.
By Sandwiching the AIO with 2 P12's, we came out with 80°C.
These results were not only devastating but also showed that the actual issue lies way deeper.
Not only was the fan (by far) not good enough for the Radiator/Pump combo, but even if it would have been, it still wouldn't be enough.
Comparing the normalized Blizzard 120 to the normalized NZXT Kraken M22 shows how much more performance is possible with a 120mm form factor.
In General, we have to say that everything, the Pump, Radiator, Fan and Coldplate is the cause for the horrible performance.
Conclusion
As happy we were with other Azza products, our conclusion on the Azza Blizzard 120 will not be alike.
Even though we were happy that the AIO was able to re-use the original AMD brackets, we cannot ignore that the finished installation looked very "shaky". We do not believe that it will break at some point, but we cannot imagine that bending Metal to such a degree will be good in the long run.
Overall we were quite happy with the new design, and the daisy-chainable RGB makes a great addition, but we cannot ignore the performance.
In the end, the most important aspect of a device is Performance. And that is one aspect in which Azza did not manage to deliver. 
So no matter how good the AIO looked or how easy it was to install, it did not manage to deliver. Leaving us no choice but to not recommend it.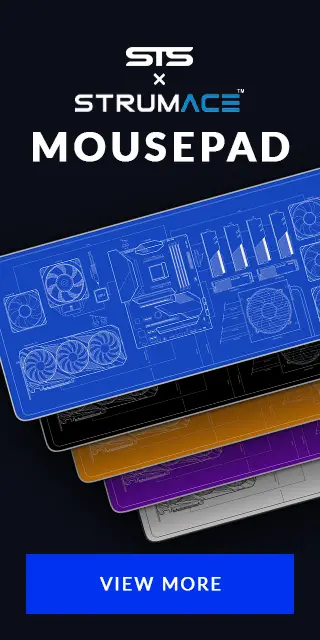 Top Reviews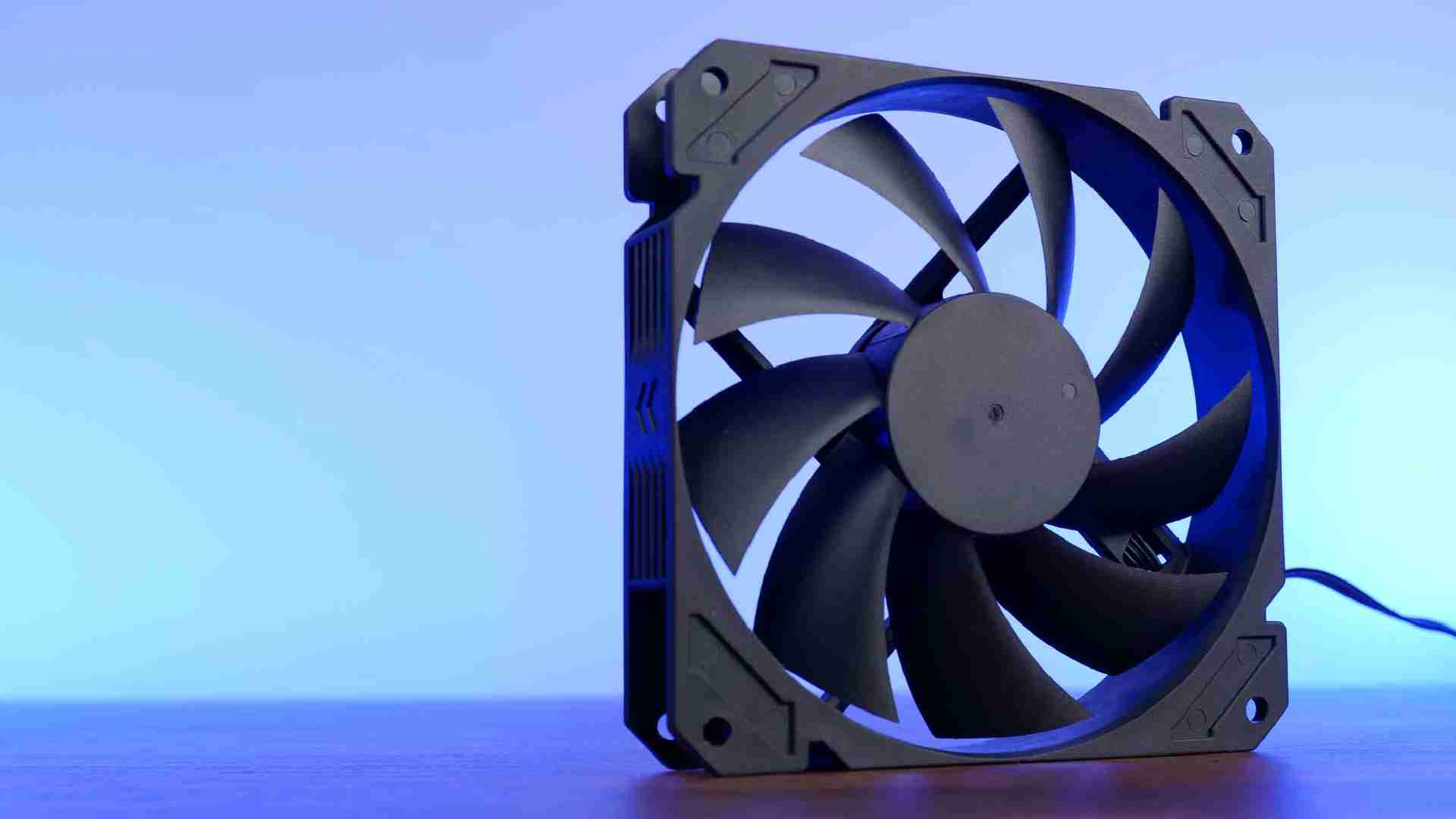 Alphacool Core 120 2500RPM Review
Alphacools new Core series aims to disrupt the budget-oriented market. Equipped with nothing but performance, high speed, and
Read More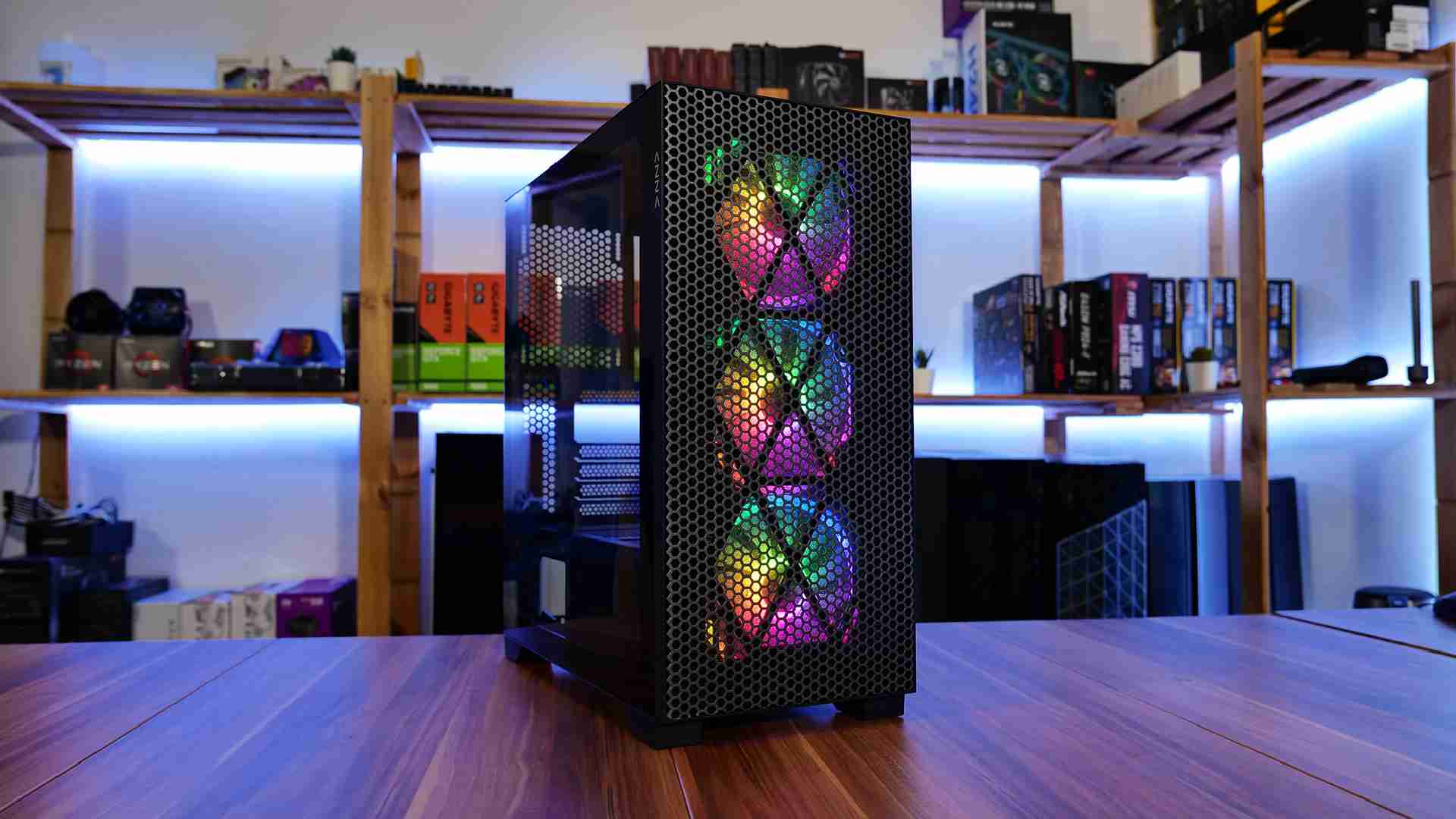 Azza Hive 450 Review
Azza-s Hive 450 Case is focused on Airflow while having a sleek design! Lets see if it can hold up to our expectations
Read More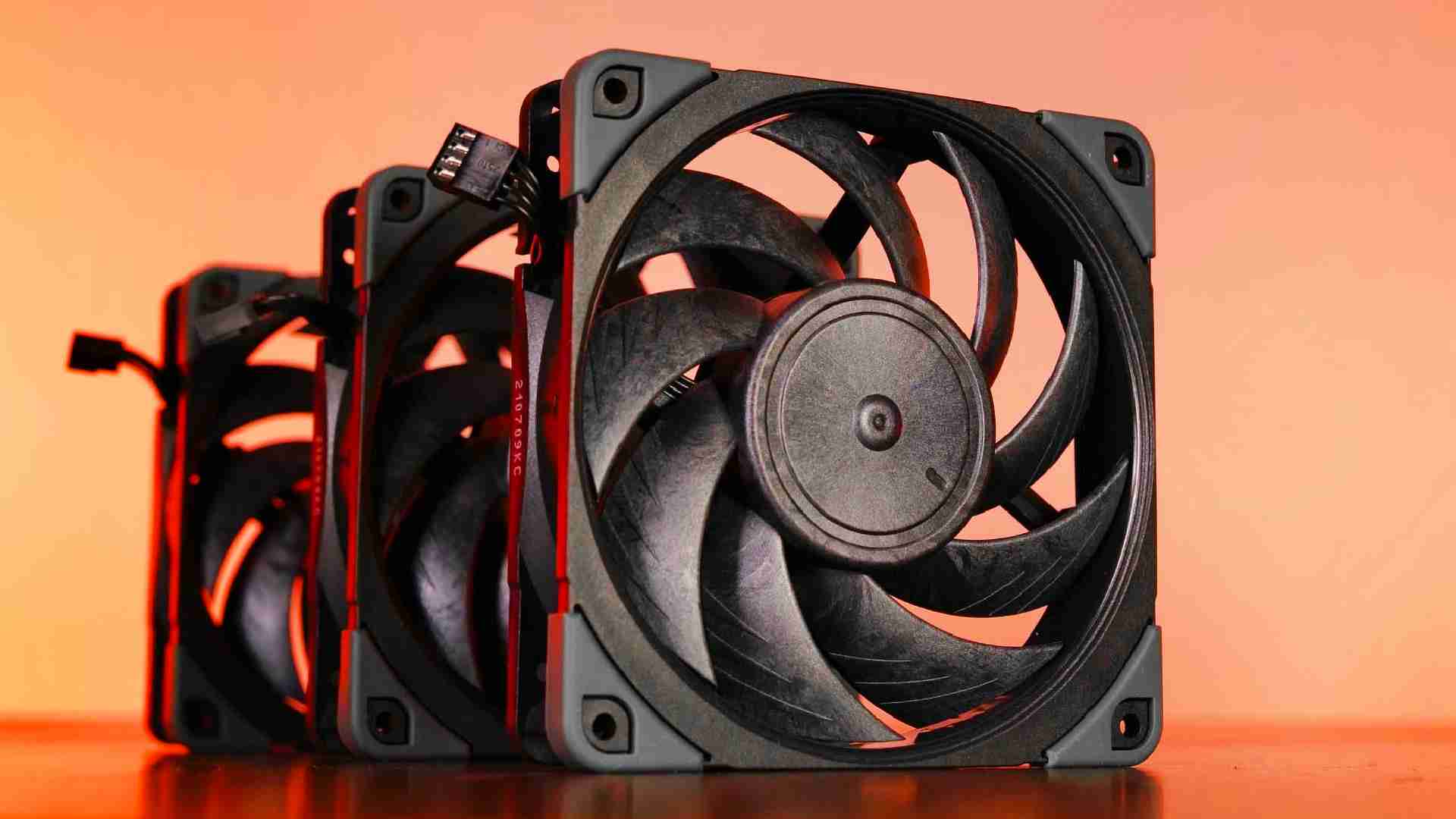 Noctua NF-A12x25 Chromax Black Review
With the introduction of Noctua's NF-A12x25, Noctua managed to produce probably the best Fan available on the market until to
Read More
Recommended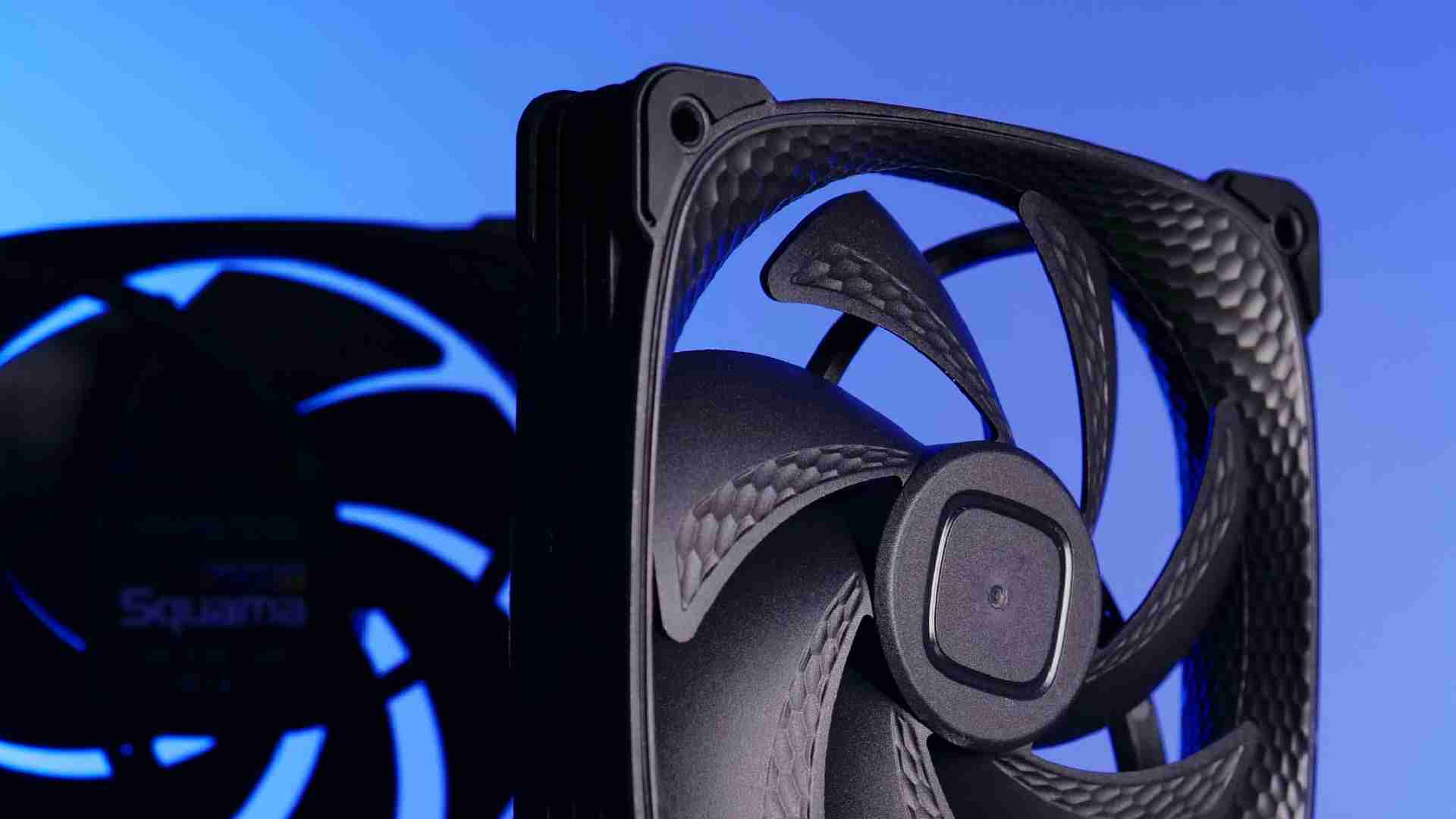 Geometric Future Squama 2503 RGB Review
Geometric Future is not only known for slapping leather on top of a case. Their Squama line of fans promises to be different!
Read More