Arctic Liquid Freezer II 120 Review
Introduction
We've seen quite a lot of Arctic products in the past. Some were quite good, others were excellent. But all of them managed to elevate our expectations. We're unsure if that's a good or a bad thing but now we expect the best-in-class performance from Arctic's Liquid Freezer II 120mm.
Let's take a closer look at Arctic's approach to small-sized AIOs and see if they managed to elevate our future expectations again.
Positive
Best-in-Class Performance
Best-in-Class Noise level
If Arctic doesn't release a bad product, people might start to think that this is an Arctic Fan-Page
Negative
AMD installation procedure
Short Tube length
What's in the Box?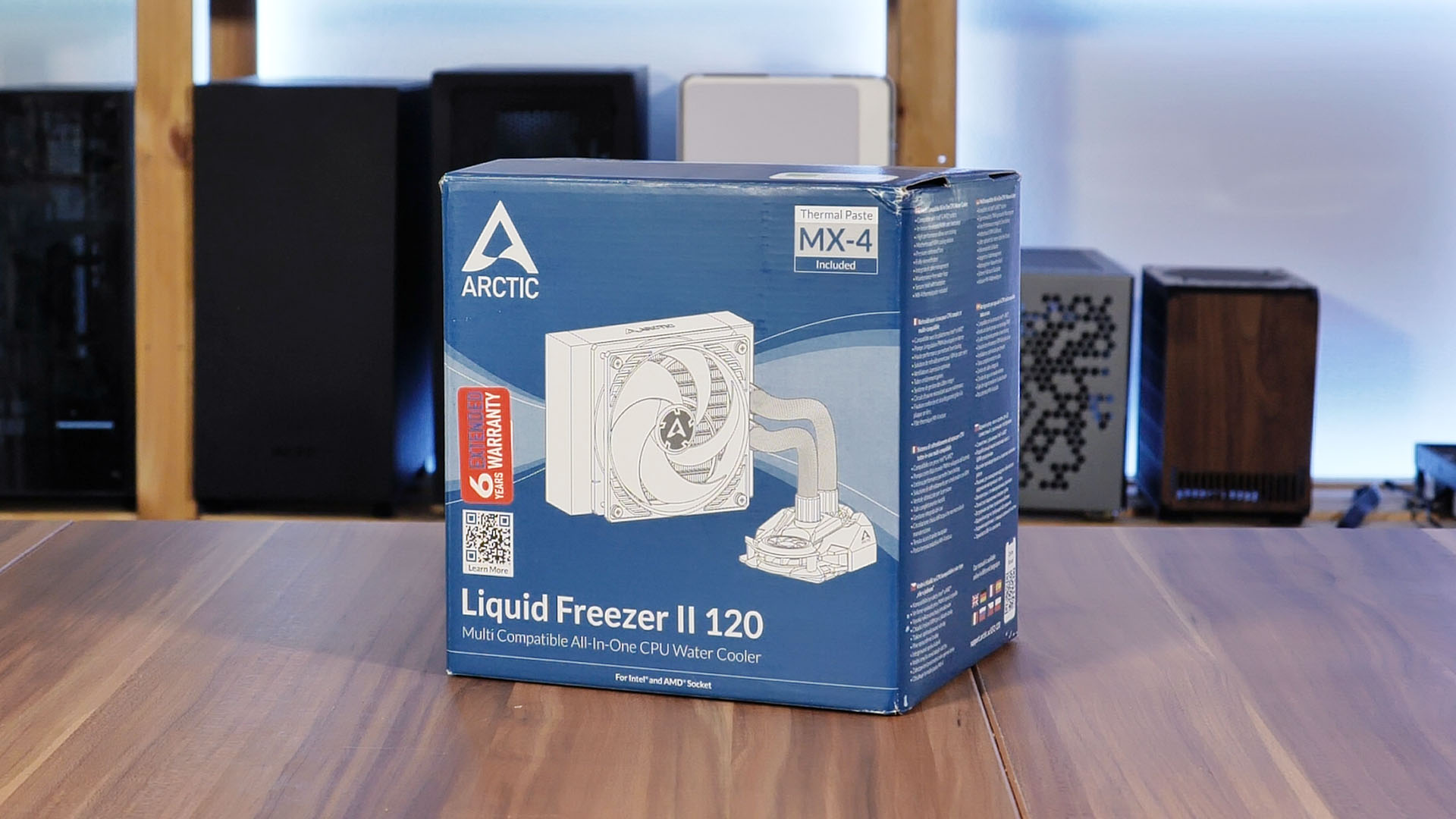 Arcitc's Liquid Freezer II 120mm comes in the usual Arctic fashion, small and efficient. Inside the box, we will find the actual AIO with the Fan pre-attached as well as a couple of bags.
These bags are containing the Mounting hardware necessary for Intel's and AMD's platform, as well as the mandatory iPhone-X-shaped Manual QR code!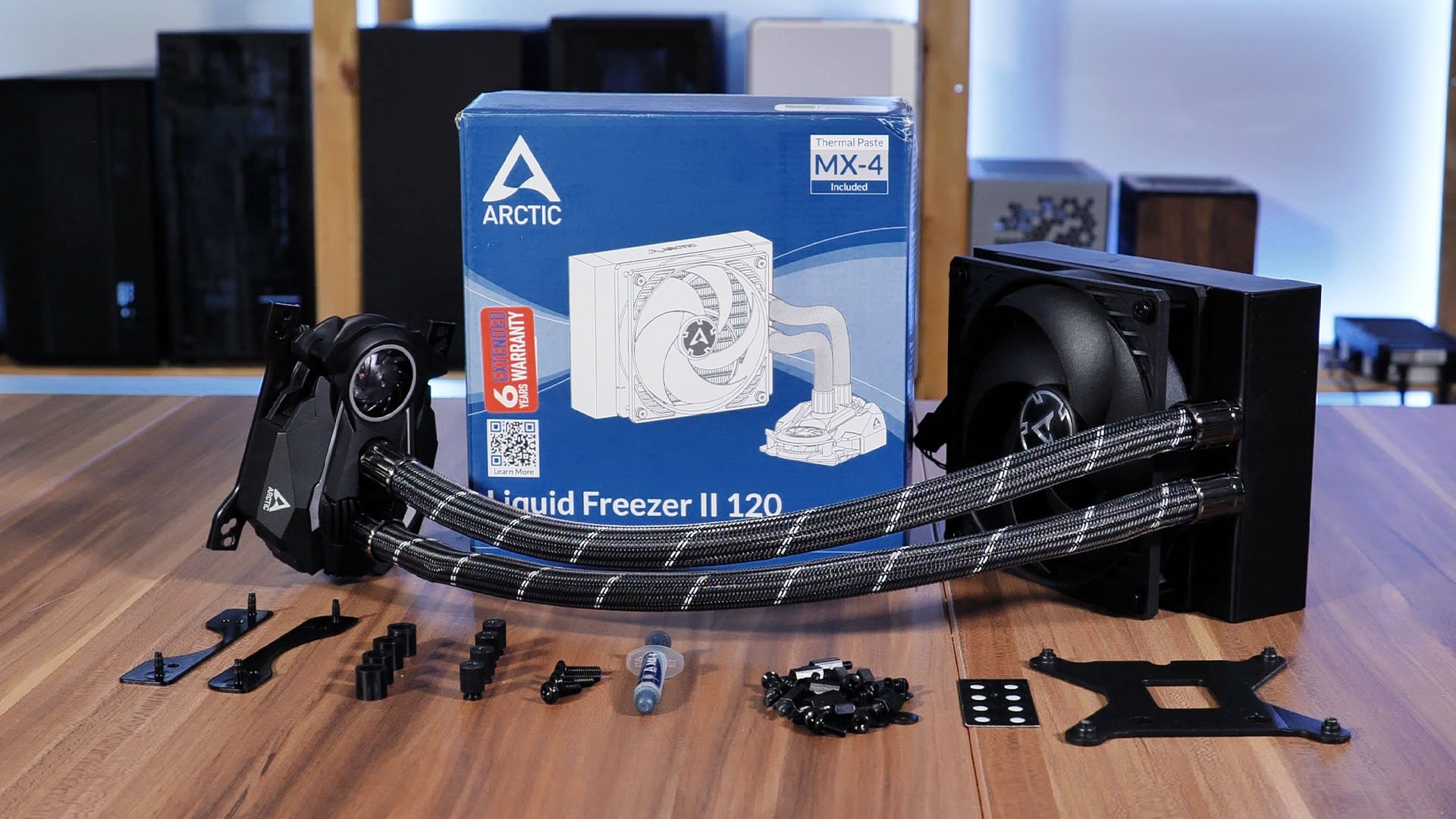 Additionally, Arctic includes a Tube of thermal paste. But keep in mind that with this AIO, you won't get the usual throwaway thermal paste, but a tube of Arctic's high-performance MX-5. A small yet powerful gesture!
On the back of the box we will find the usual spec sheet which we summarized down below:
| | |
| --- | --- |
| Name | Arctic Liquid Freezer II 120 |
| Dimensions (Radiator) | 157x120x38mm |
| Fan Airflow | 55.6CFM |
| Fan Noise | 0.3 Sone (should be >25db) |
| Fan Air Pressure | 2.2mm/H2O |
| Fan Speed | Up to 1800RPM |
| Fan Connection | PWM |
| Pump Connection | PWM (shared with Fan) |
| RGB | No |
Compatibility
In terms of compatibility, the Arctic Liquid Freezer II series is compatible with the most recent generations of Sockets. 
Below we attached a full list:
| | |
| --- | --- |
| Intel | AMD |
| LGA 1200 | AM4 |
| LGA 2066* |   |
| LGA 2011-3* |   |
| LGA 1155 |   |
| LGA 1151 |   |
| LGA 1150 |   |
Please note that the Sockets marked with an * need to be accompanied by a Square ILM (Independent Loading Mechanism). This means that the holes around the socket that are meant to keep the cooler in place need to be placed in a square formation.
Individual Components
Waterblock/Pump/VRM Fan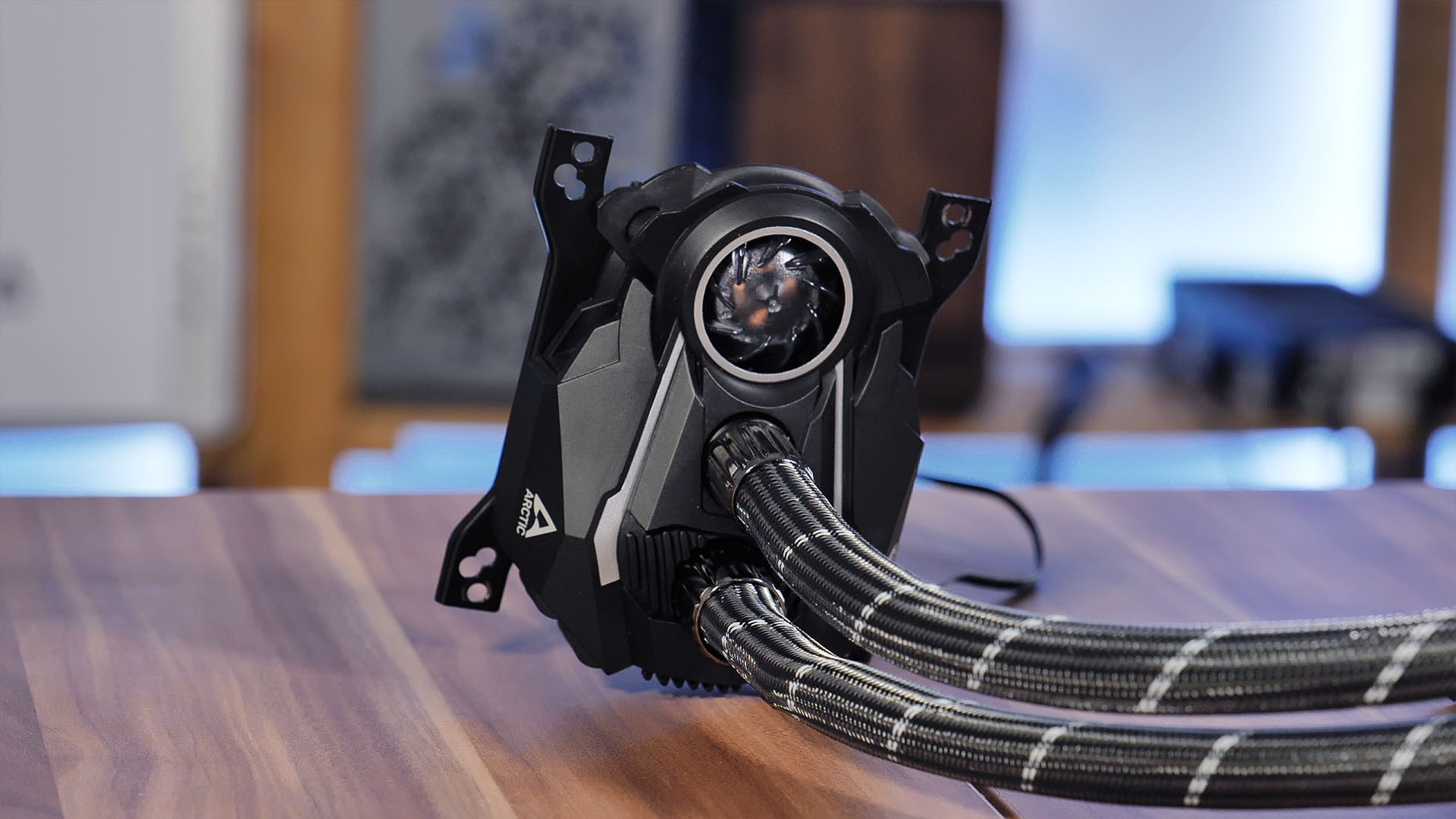 The Liquid Freezer II's Waterblock-Pump combo comes with a rather small copper plate, barely bigger than an AMD CPU. Nothing that we haven't seen so far.
The fan sitting at the Top of that combo, however, is something entirely new.
Arctic included an additional VRM Fan that is supposed to keep the VRM's around the CPU cooler. A concept that we have not seen in use yet.
That VRM Fan is spinning at max. 3000RPM and controlled by the same PWM connection as the Pump.
Naturally, we tested this little fan and found that by using a Ryzen 3700x at 4.5Ghz at 1.4vcore, there was a potential decrease of around 5°C after a 15 minutes stress test.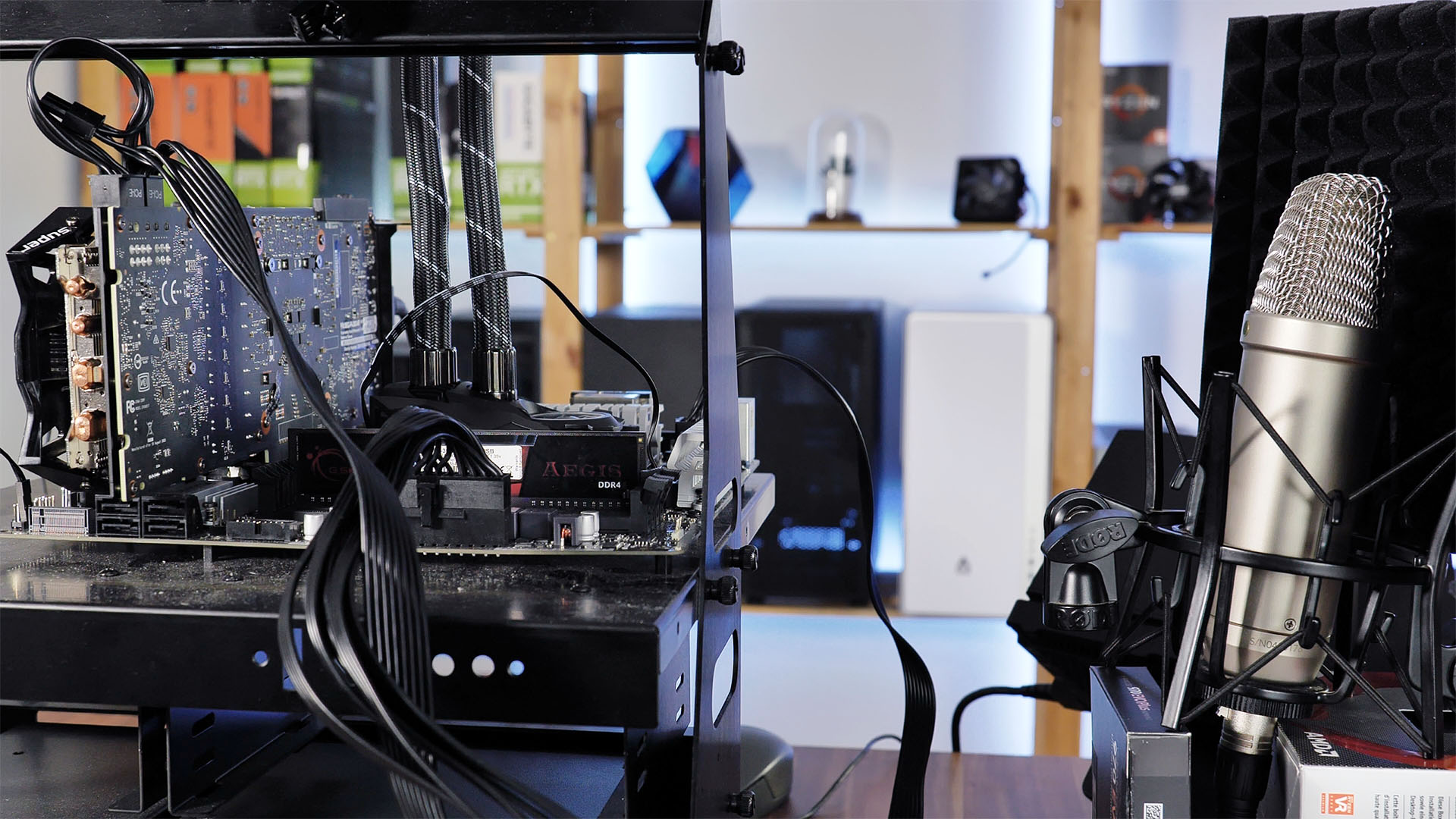 Even if there certainly is a decrease in temperature, the VRMs were nowhere near any thermal issue without the fan, making this fan rather pointless under normal operations.
The only use-case we see to this to be useful is by using a Plate-like case like a Thermaltake P5 which provides absolutely no airflow to the VRMs.
On a side note, we tested the noise level of the AIO with and without the Fan, and due to the actual AIO fan's noise (though that one isn't loud), we were unable to hear any difference while stress-testing it.
Radiator
The radiator which Arctic uses in its LF II 120mm variant is unlike the standard that we have seen so far. Instead of the usual 28mm thickness, Arctic decided to give its Radiator an enlarged 38mm thickness, providing (a lot) more surface area for the fins as well as a potential increase in cooling performance.
Fan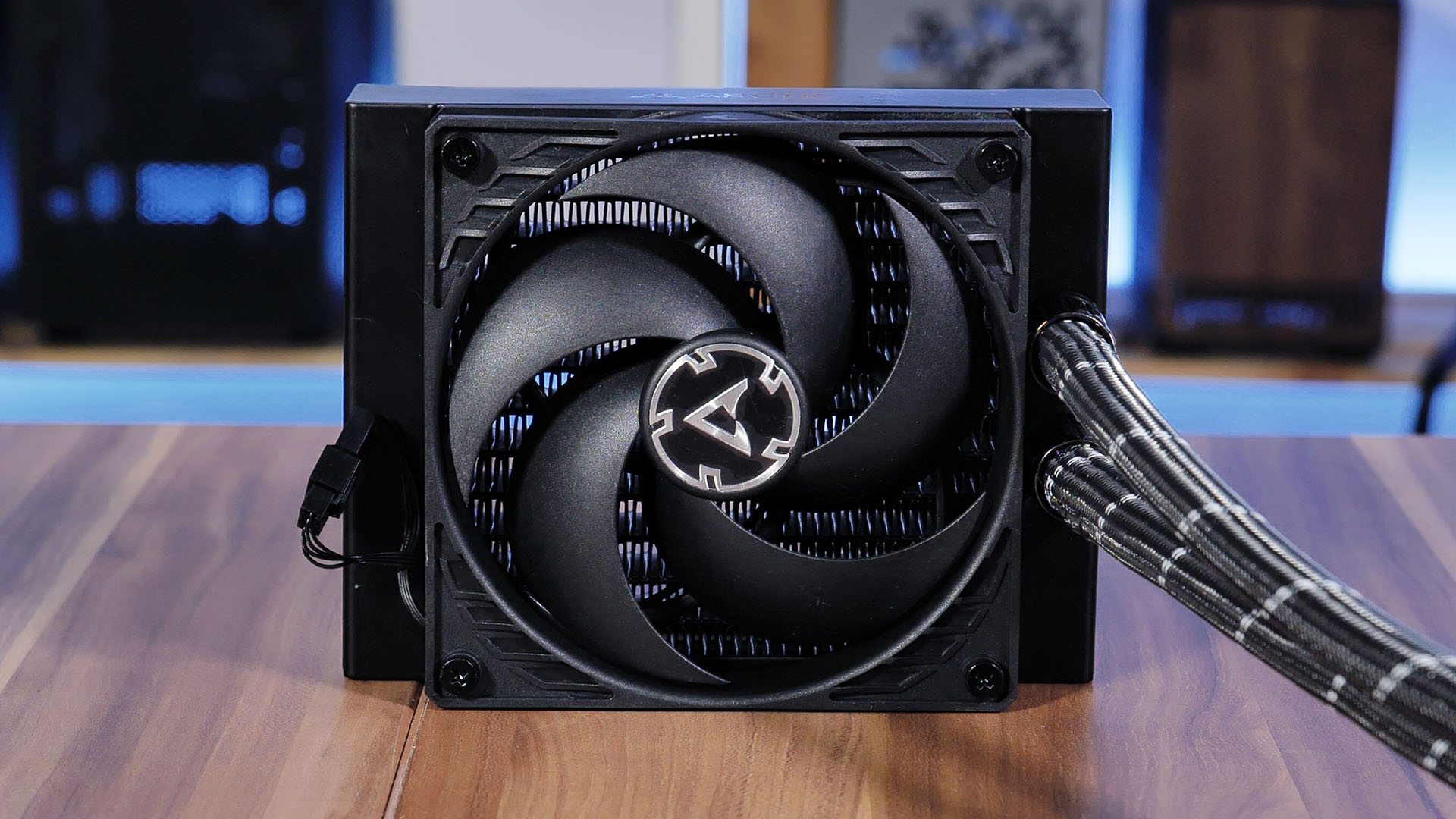 In order to cool the Water down, Arctic used one of its P12 PWM fans. We have already reviewed these fans, and you can check out the individual review right here. But to summarize it, these are amazing Fans.
Tubes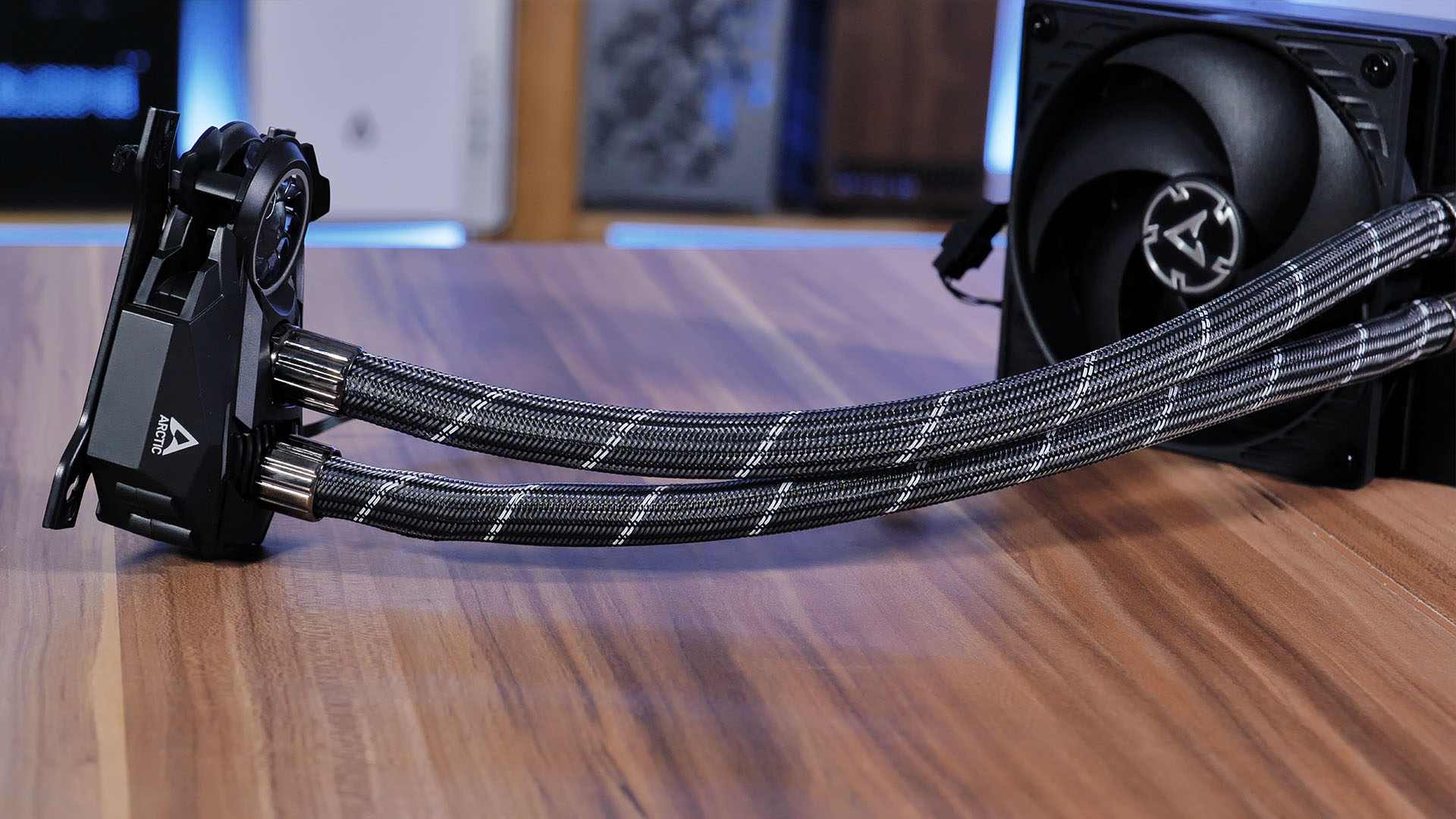 The tubes used in the Liquid Freezer II 120mm are both impressive and slightly underwhelming at the same time.
Sure the tubes are among the thickest we have ever seen (12.4mm) though this seems to be an optical gimmick as the actual inner diameter (where the water flows) is just 6mm thick. Making the amount of water that can flow through these tubes no different than we are used to.
Additionally, the tubes are only 350mm long,  which is just not enough if you are planning to use this AIO in a Big-Tower case.
Installation
The installation procedure of an Arctic Liquid Freezer II 120mm is a straightforward process.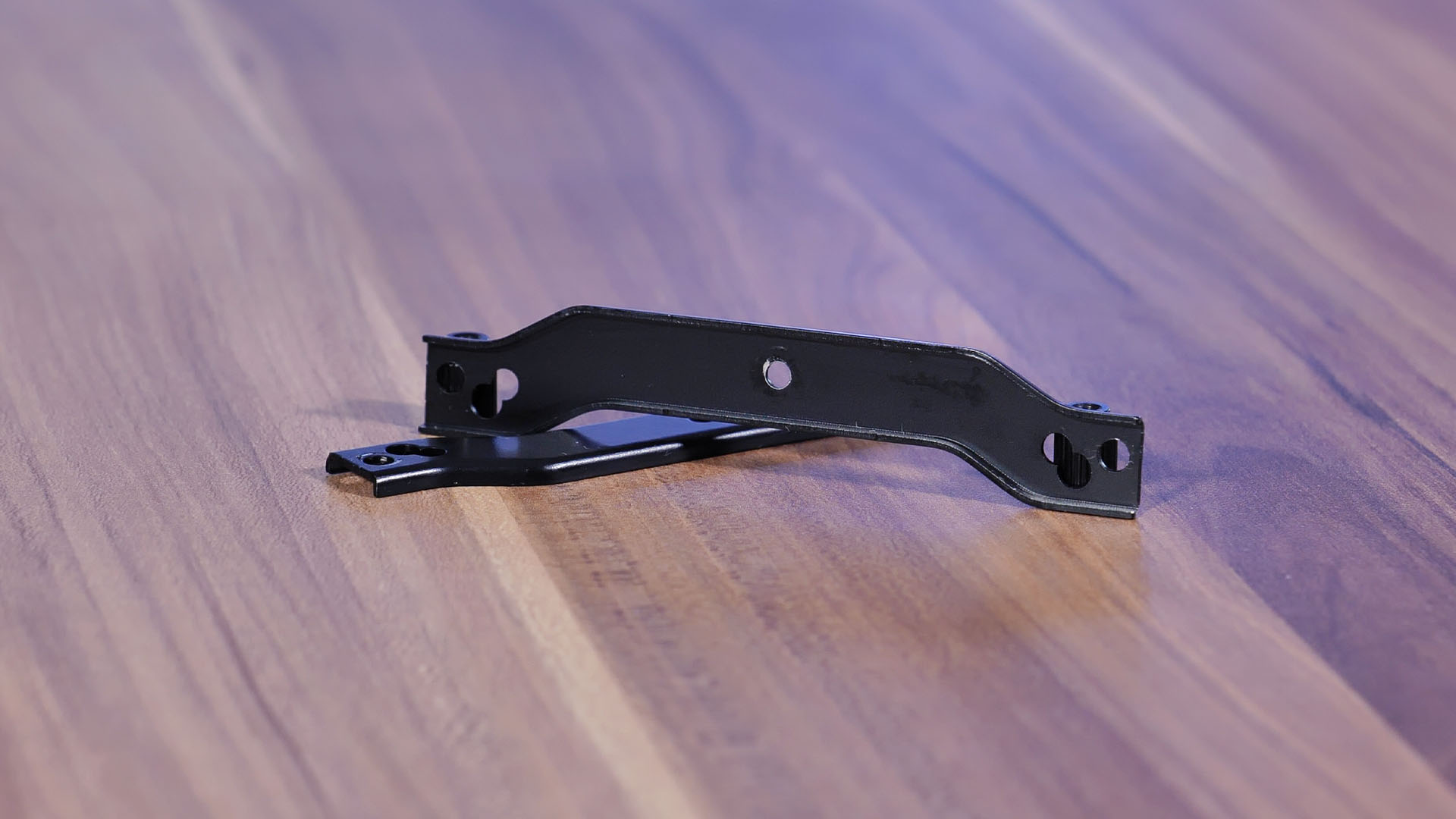 As a pre-step, the Mounting Rails have to be attached to the Waterblock.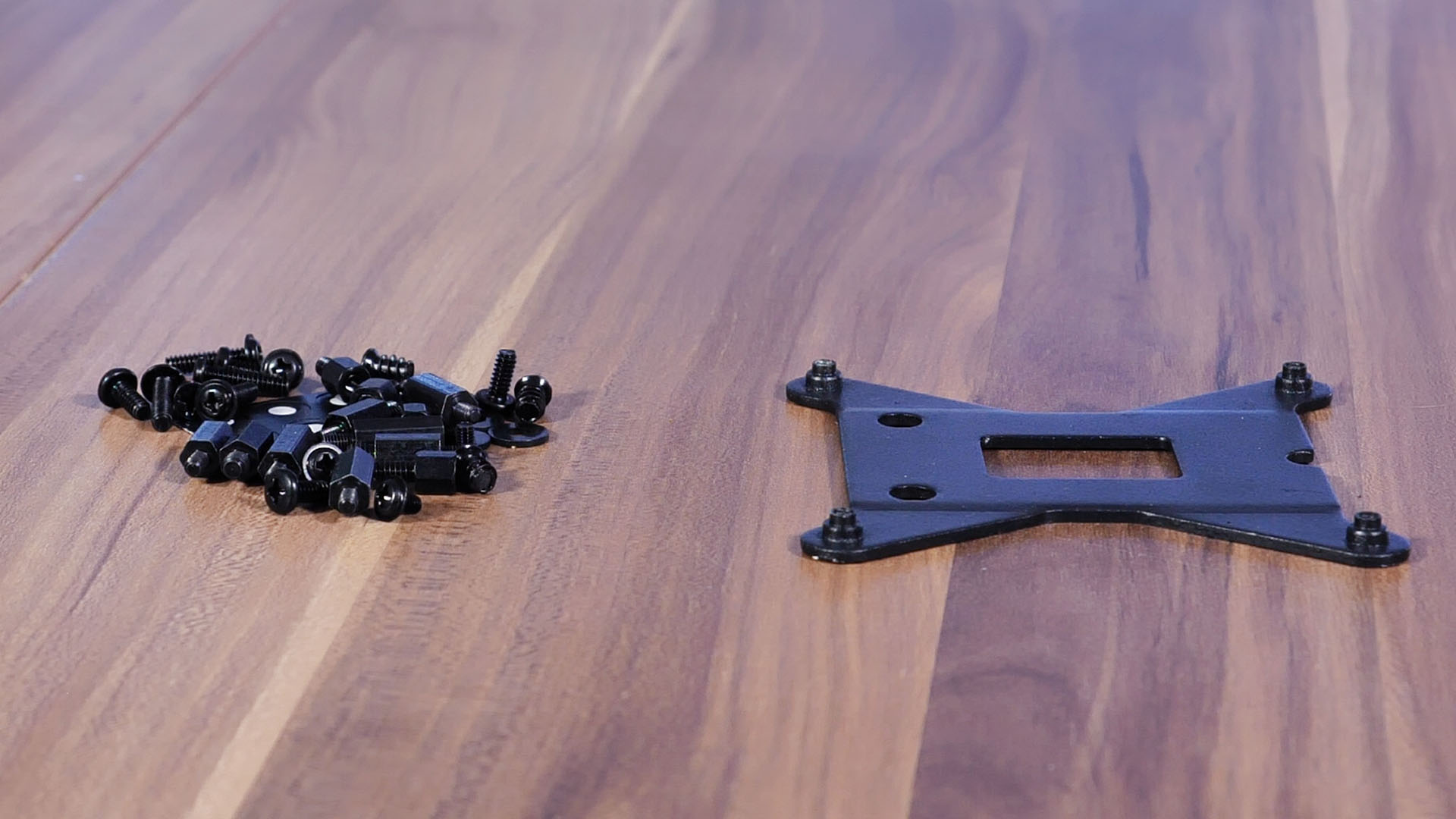 Then for team Intel, we can follow the usual procedure by placing the Backplate behind the motherboard, fixing it with the standoffs marked for the appropriate socket, placing the Waterblock on top of the CPU, and screwing it down with the provided thumbscrews.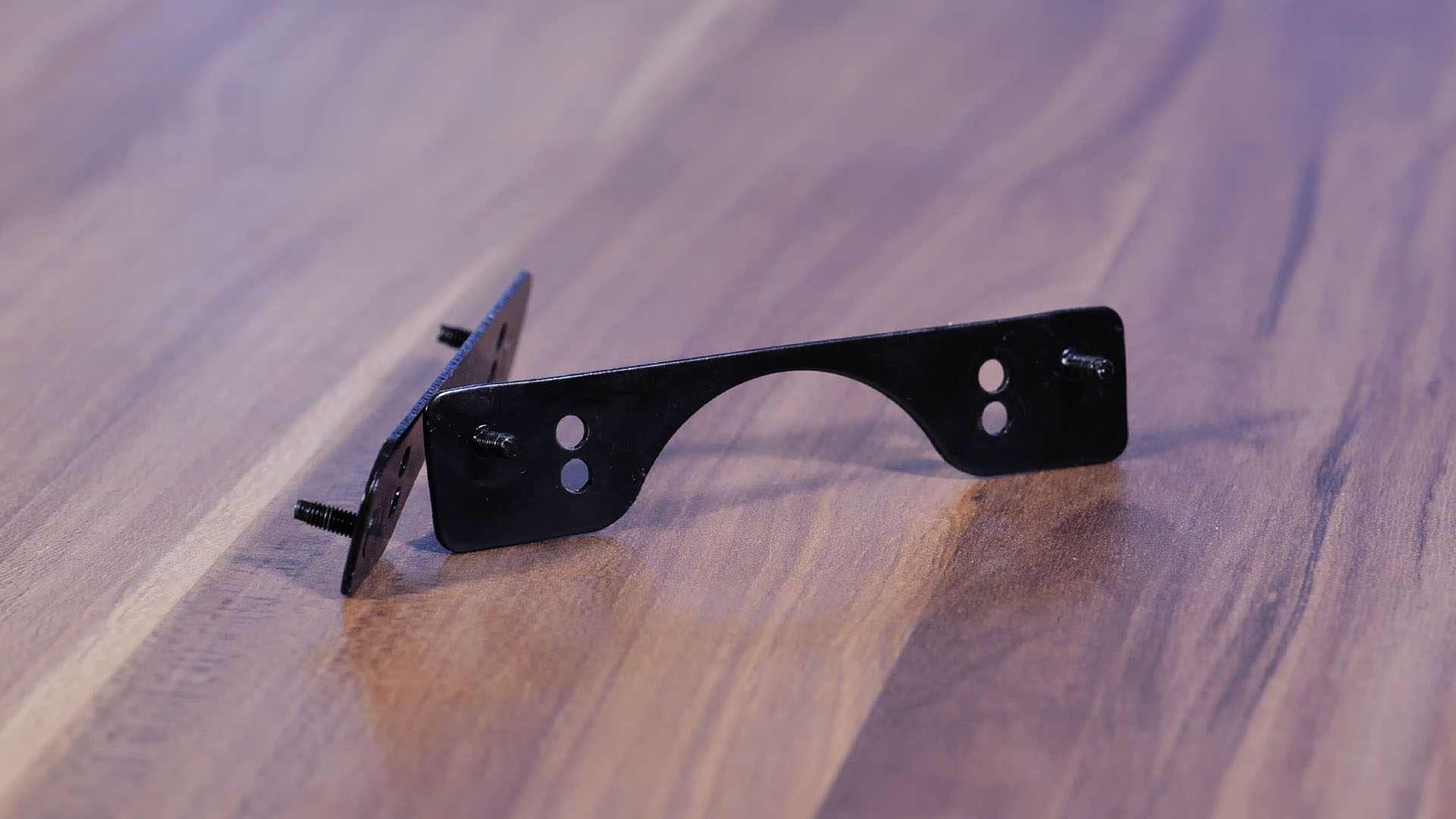 On team AMD it gets a bit tricky.
As there were occasions where the Waterblock was interfering with Mainboard components places around the Socket, Arctic is now including an AMD off-set bracket.
In order to install the LF II on an AMD CPU, we can re-use the original Backplate, place the provided standoffs on the Cooler-Screw-Holes and place the AMD off-set bracket on top.
At this point you will have the possibility to choose between two different sets of holes, one of which offsets the CPU a bit to the bottom, providing additional clearance for any components installed at the top.
Appearance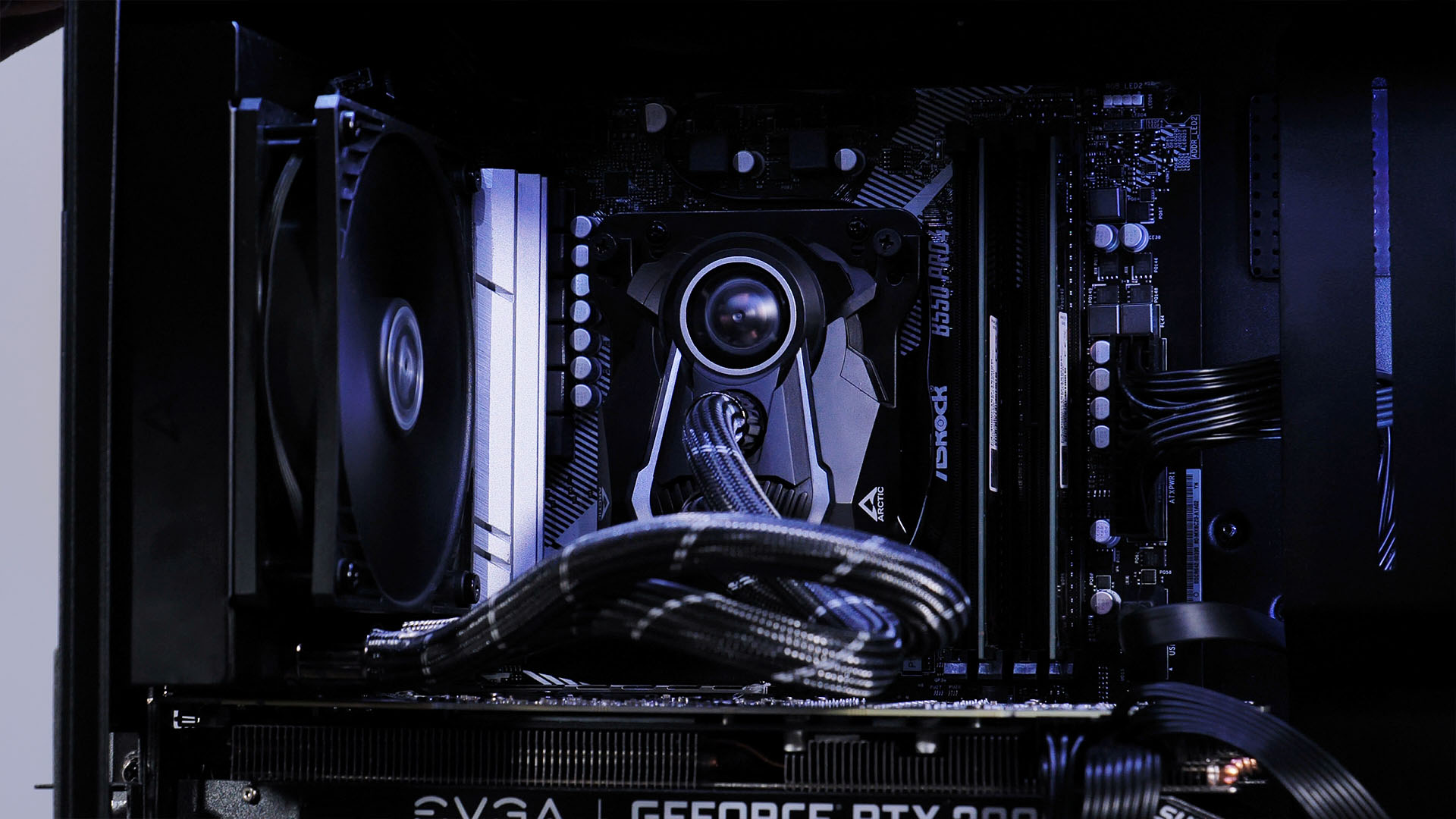 When it comes to the LF II's appearance, we have to admit that we are really not the biggest fans.
The Waterblock has numerous weird-looking shapes and edges which in no way contribute to any performance.
In general, we think that the Waterblock has a strong resemblance to a Star Wars Millennium Falcon, and we are just not into that kind of design.
Benchmark
Unsurprisingly, the most important aspect of an AIO is its performance. And to be honest, we had quite the expectations due to the Liquid Freezer already coming with one of our beloved P12 Fans.
As usual, we used our Test-Bench with our Ryzen 3700x at 4.5Ghz with 1.4vCore and grilled the CPU with HeavyLoad.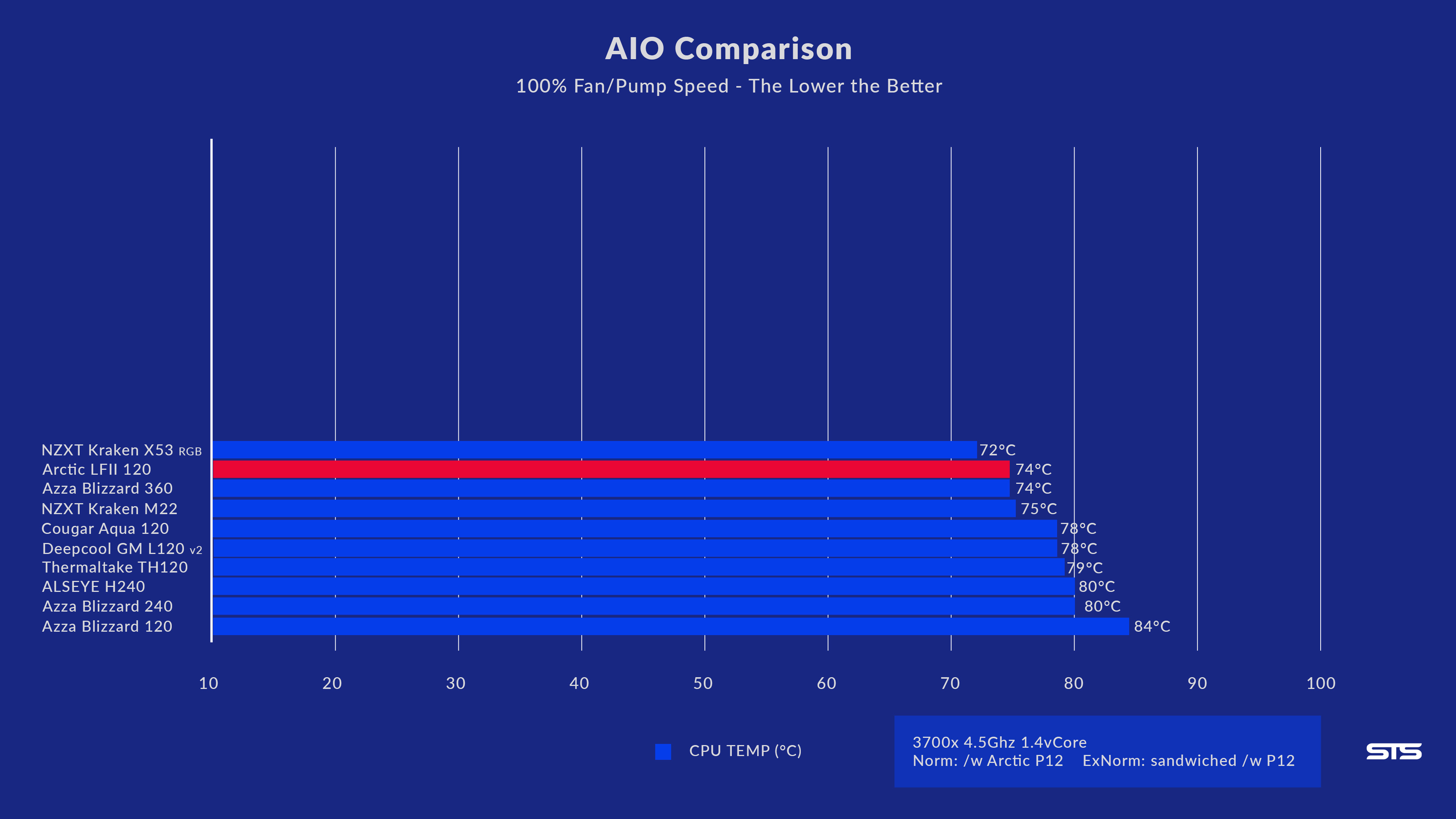 While using the AIO at 100% Fan speed, the Liquid Freezer II managed to keep the 3700x at 74°C, making the new best Liquid AIO that we have.
The second test that we perform on AIOs is meant to find out if the Fan is bad by standardizing it with one of our P12s. Unfortunately, as the Liquid Freezer already comes with a P12, this became obsolete.
But the sandwich test didn't. Here we installed another P12 in order to find out if there is still some performance left to be squeezed out of the radiator.
Here, the 2-Fan version managed to squeeze out another 2°C, keeping the CPU at 72°C.
In general, the Liquid Freezer 120's performance is outstanding, not only was it able to de-throne the NZXT Kraken M22, but it was also able to beat a full-sized Blizzard 360. Just impressive.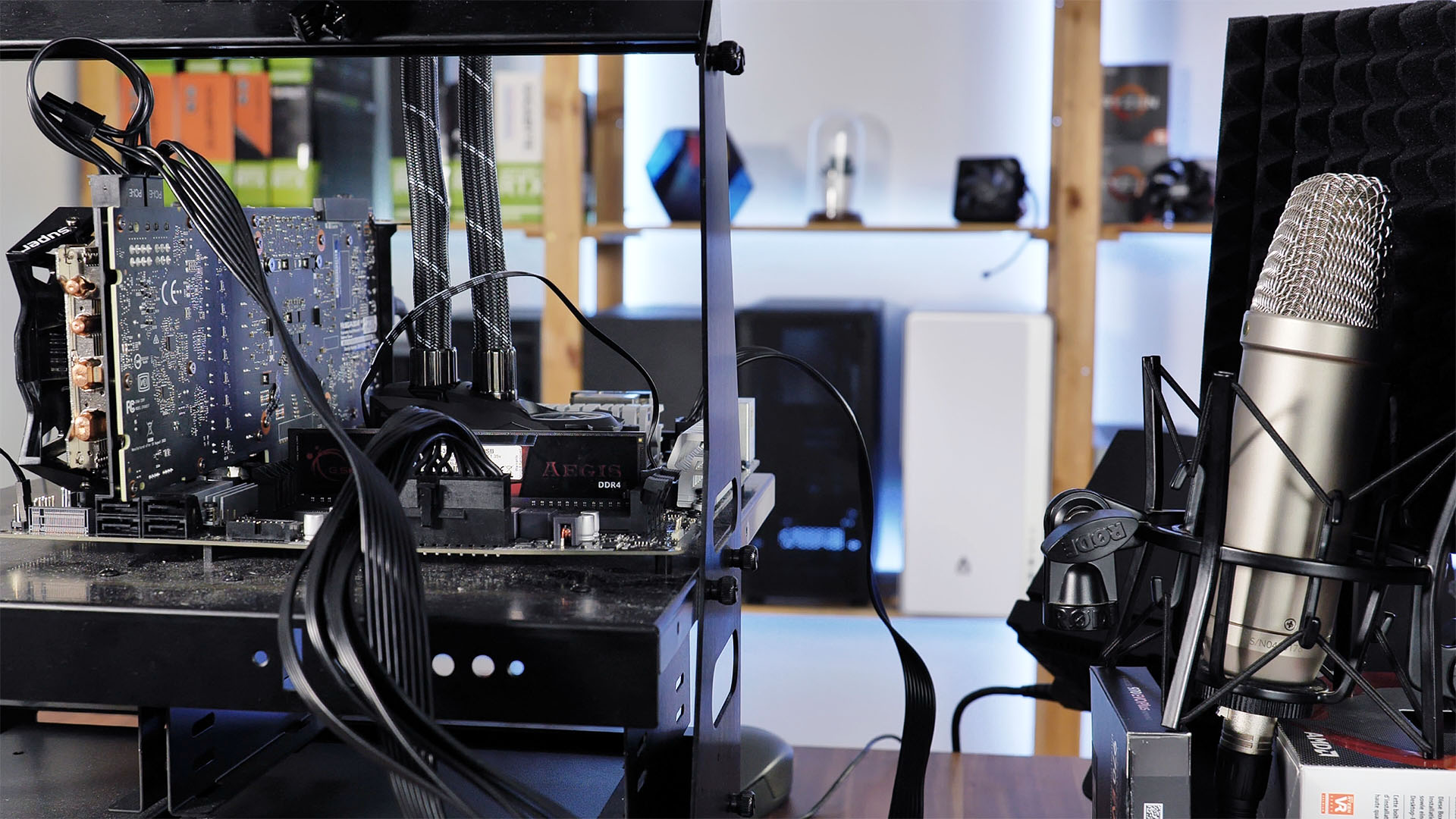 But even more impressive is the noise that this little cooler omits. We compared Arctic's approach to the previous M22 King, and let's just say it's a day and night difference.
If you want to find out more about the noise level, feel free to watch the video included at the top of this page.
*It is hard to demonstrate a noise by using a keyboard.
Arctic LFII 120: mmmmmm
NZXT Kraken M22: MMMMMMMM!
Conclusion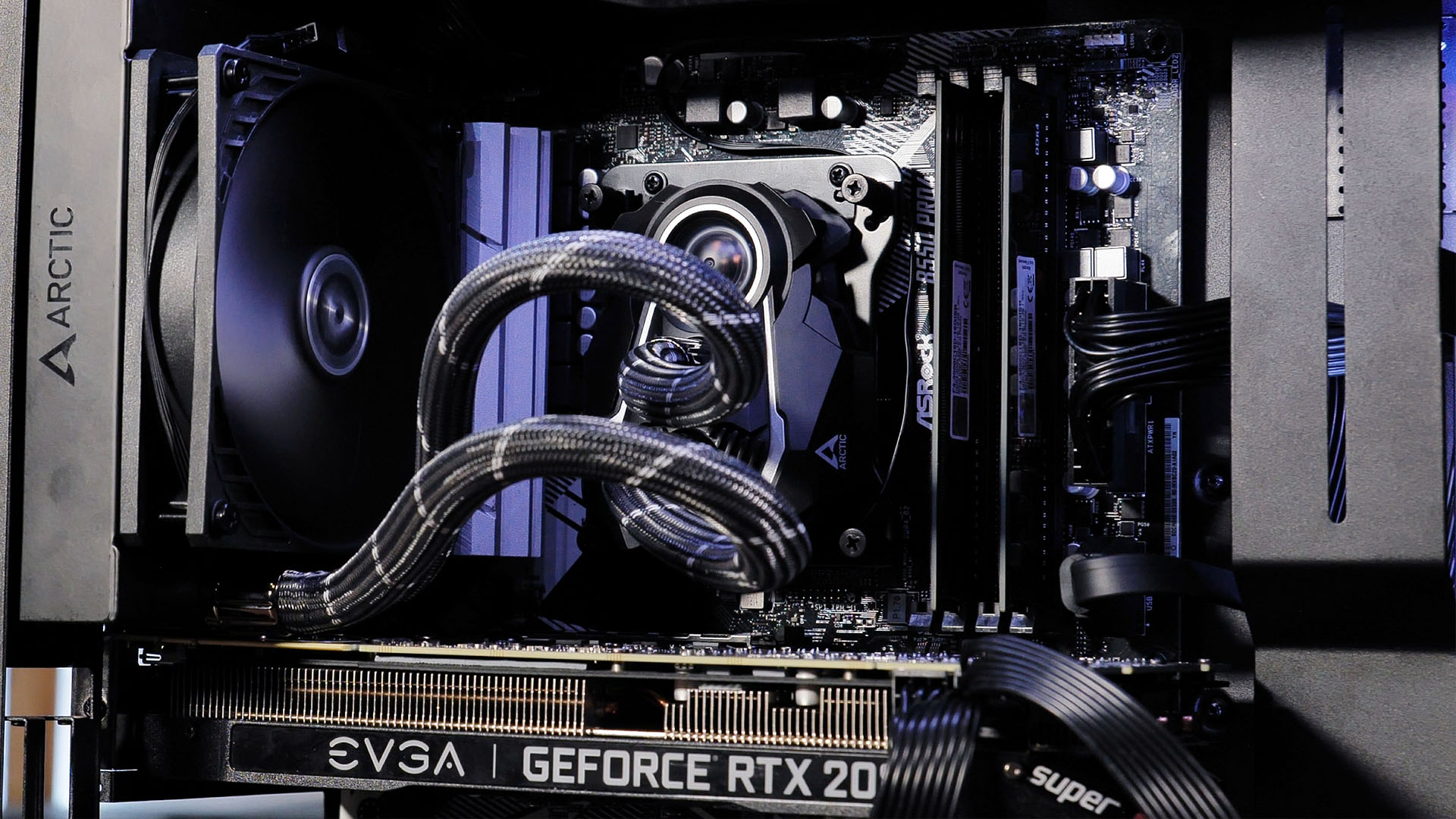 If there is one word to describe Arctic's Liquid Freezer II Lineup it's: WoW.
The cooling performance is among the highest in the industry while we have never witnessed an AIO operate that quiet.
Although we are all behind Arctic on the Performance side, we are not fully backing up the Pump/Waterblock Combo design choice.
There are numerous unnecessary edges and outstanding pieces. This paired with being made out of plastic can create a cheap-looking design. Something that in no way reflects on the actual performance that this beast of an AIO can deliver.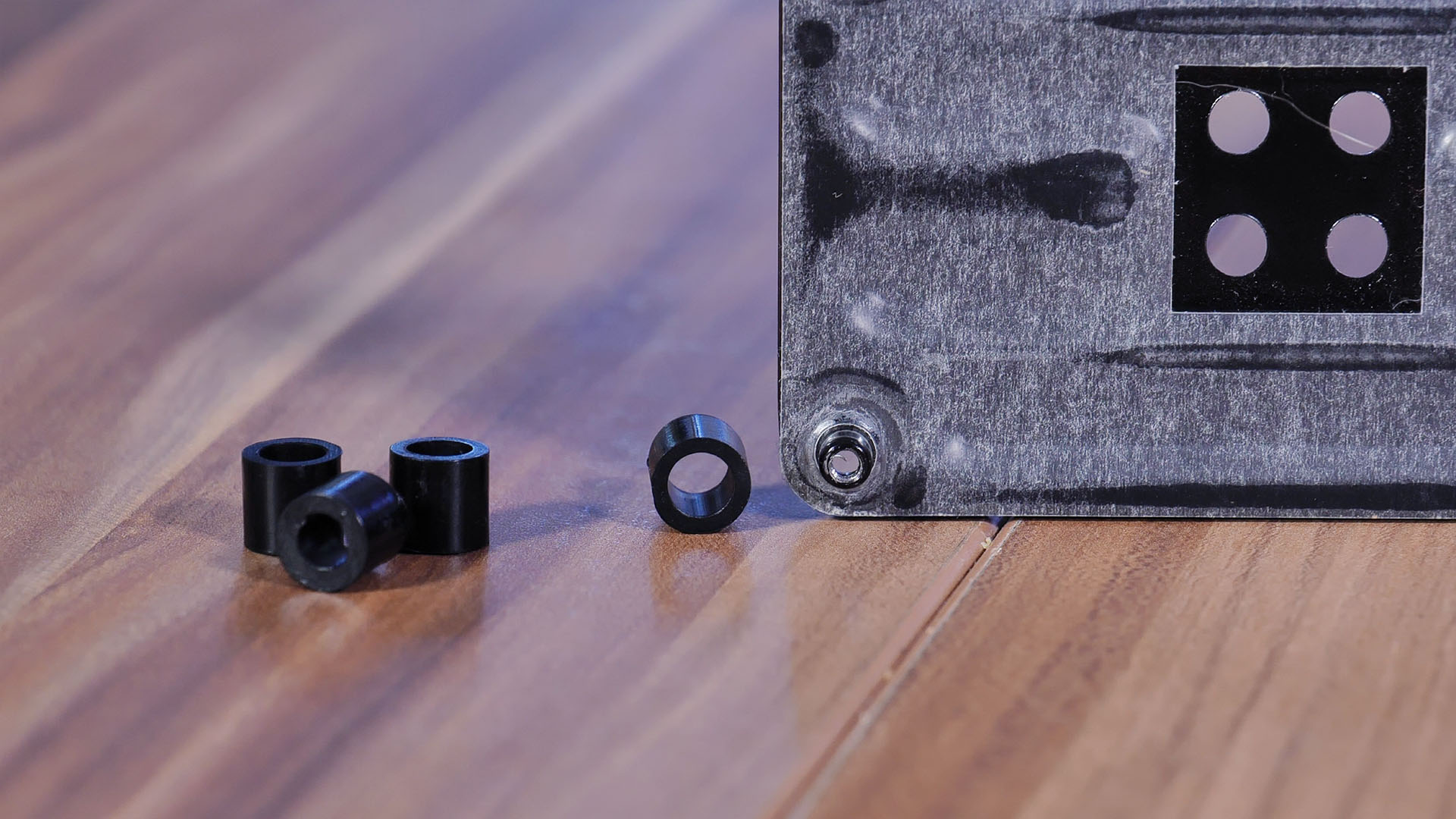 That being said, there are two things that we would love to see updated for the next revision.
In order to install the Liquid Freezer II on an AMD CPU, you need to install the included mounting plates. These need to be placed on top of 4 Screw spacers.
Because these spacers are significantly wider than the pieces that stick out of the backplate, this becomes an extremely wobbly experience.
If however, you need to install all of this while the motherboard is already inside of a case, forcing you to keep the backplate in place with one hand, this becomes an "enraging" experience. I can speak from experience.
This issue could easily be solved by using thinner spacers that tightly fit onto the bits that come out of the backplate.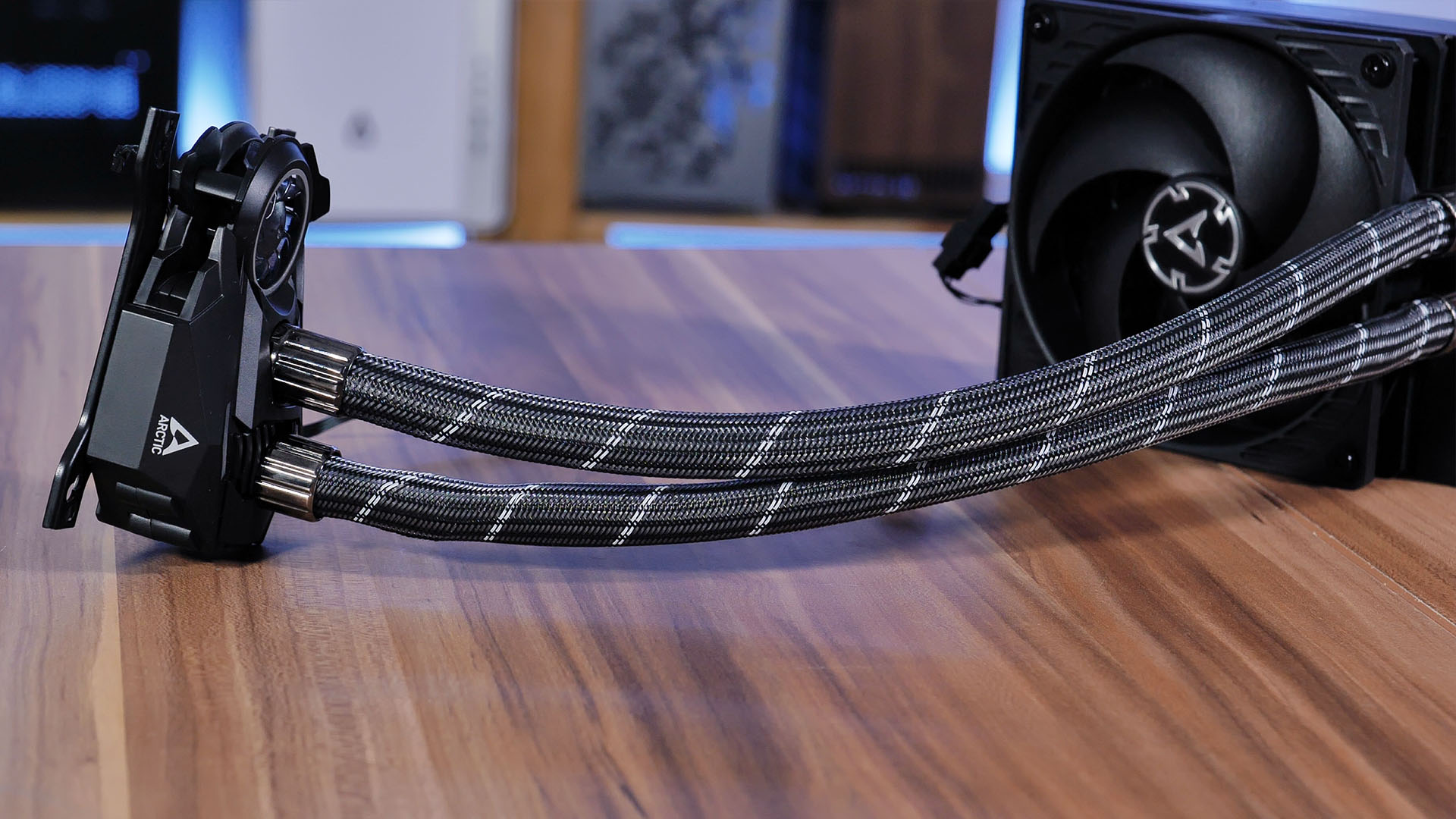 The thing would be tube length. With 350mm, the tubes are quite short for huge builds, and we think that 400mm is more appropriate nowadays.
But to be honest, this must be nagging on the highest level, as there is no "real" negative aspect about this AIO.
The performance is on point,
The noise is on point, 
The fact that everything can be run over a single PWM header is impressive,
and with around 56€, it is still considered to be a budget AIO.
And with these aspects in mind, we can only recommend the AIO to anybody who is looking for top-tier performance.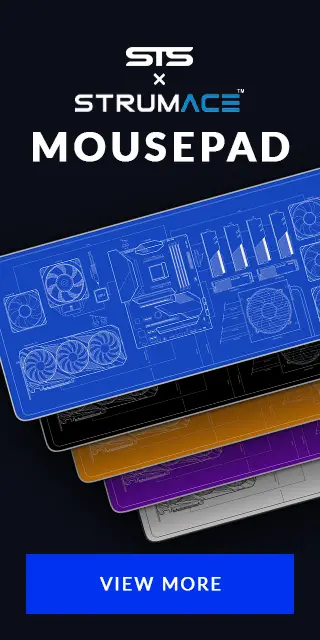 Top Reviews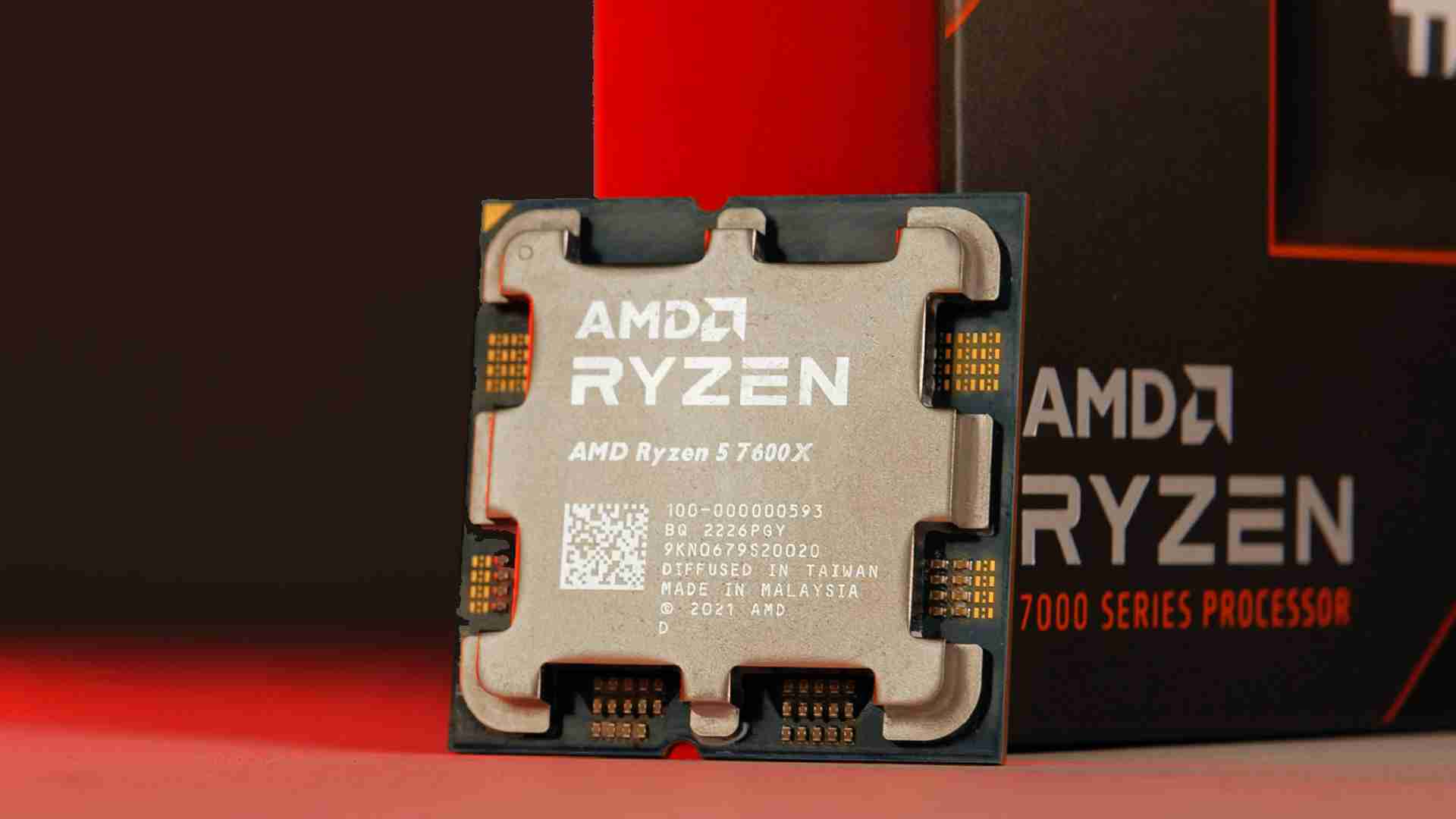 AMD Ryzen 7600x Review
Thanks to the new Zen 4 architecture, the Ryzen 5 7600x was able to achieve what the Ryzen 5600x did before. Taking the reins
Read More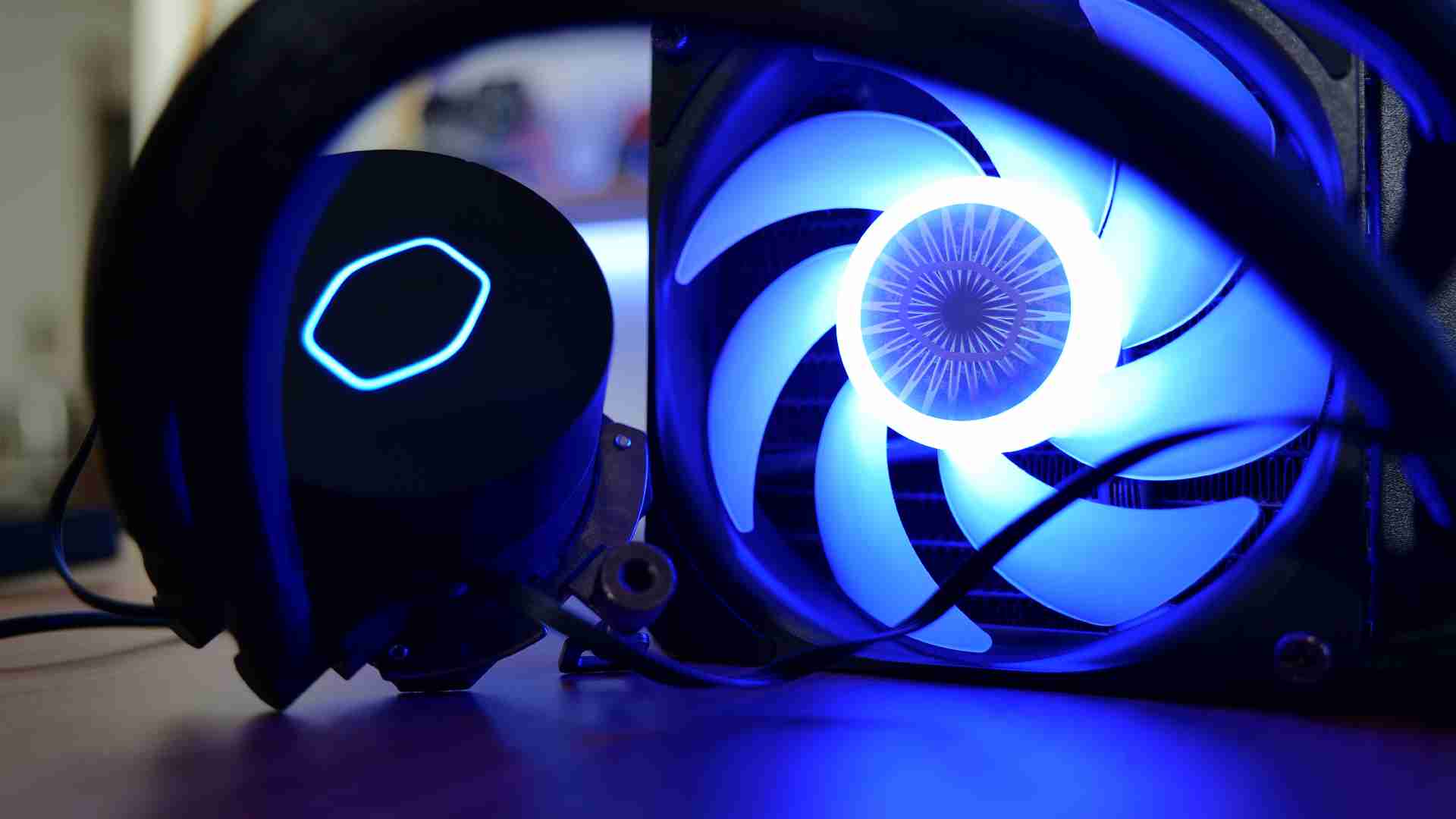 Cooler Master MasterLiquid ML120L V2 RGB Review
Cooler Masters refresh of their MasterLiquid Lineup, the MasterLiquid ML120L V2 RGB, promises to be better performing, quiete
Read More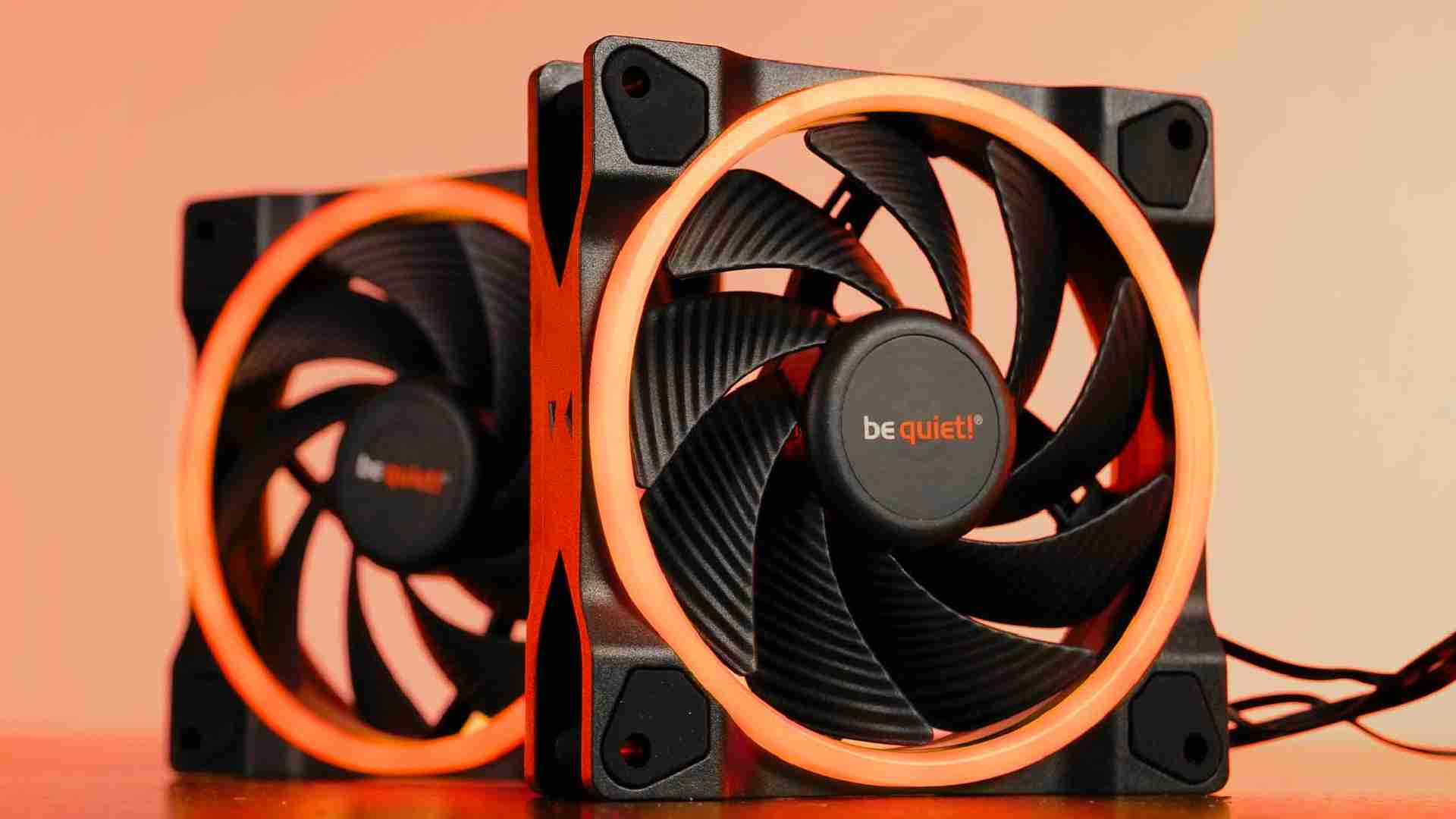 be quiet! Light Wing 120 High Speed Review
After many years of pure blackness, be quiet! finally went RGB. With the newest Light Wing PWM High-Speed, be quiet! tried th
Read More
Recommended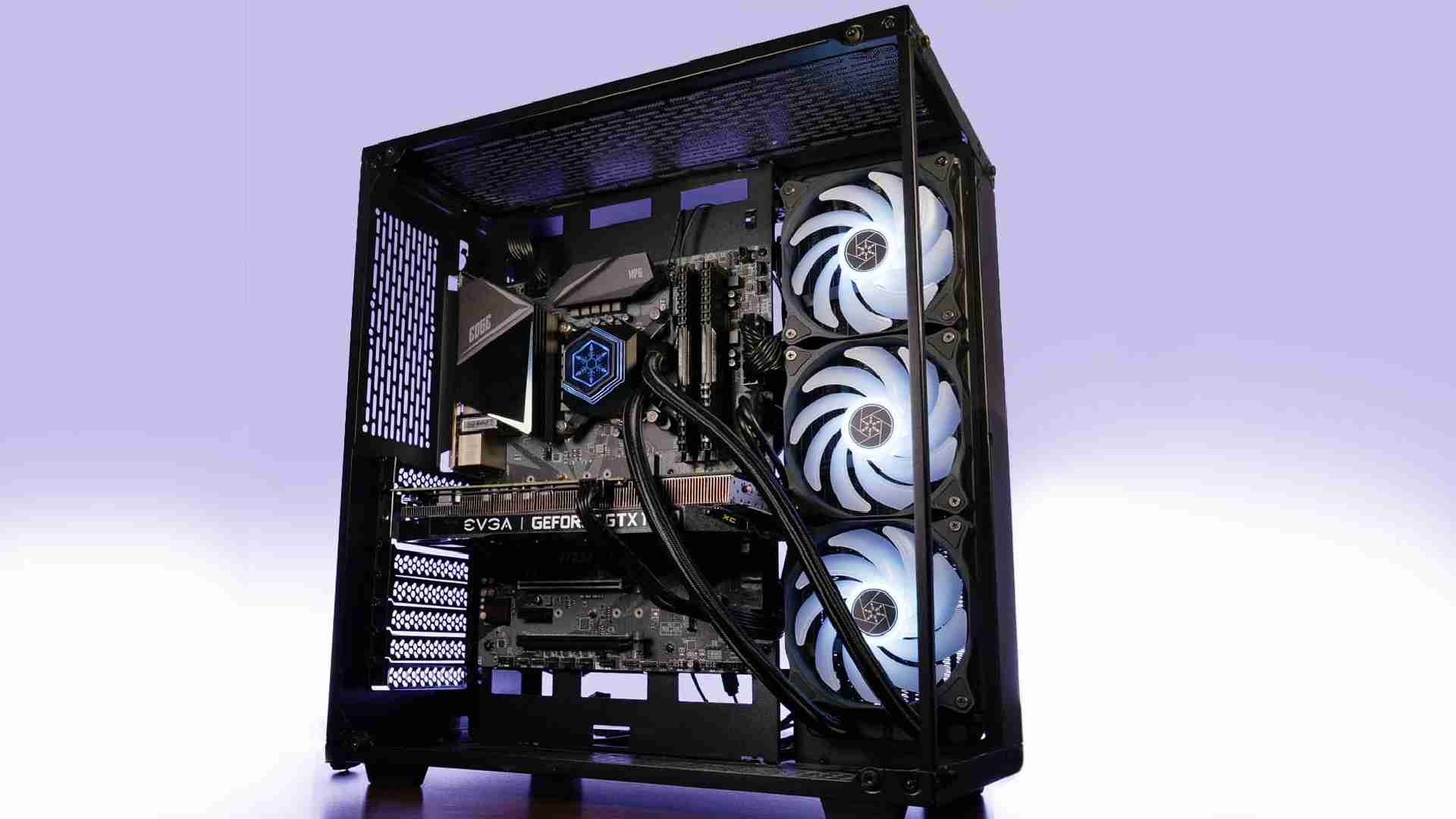 SilverStone Permafrost PF360 ARGB Review
By using 3 of their Air Blazer 120R fans, Silverstones Permafrost PF360 ARGB promises to deliver top-of-the-line performance
Read More