Noctua NF-A14 IndustrialPPC 3000 PRM Review
Introduction
Noctuas Industrial lineup promises exactly two things. Exclusively good performance at industrial grade performance. Their NF-F12 Industrial is a perfect example of this. But how about their 140mm NF-A14 Industrial? Let's find out if the bigger models are even better!
Positive
Performance
40cm PWM cable
Build Quality
Negative
Noise
Can creates Airflow current inside the room
What's in the Box?
Unlike Noctua's regular lineup of fans, the industrial lineup is completely utilitarian. Inside the Box, we will find nothing but the NF-A14 Industrial Fan and a 4-pack of screws.
Not even additional colorful anti-vibration pieces are included.
The Package itself does still come in the usual Noctua fashion using the usual Noctua design, including the spec sheet we summarized down below.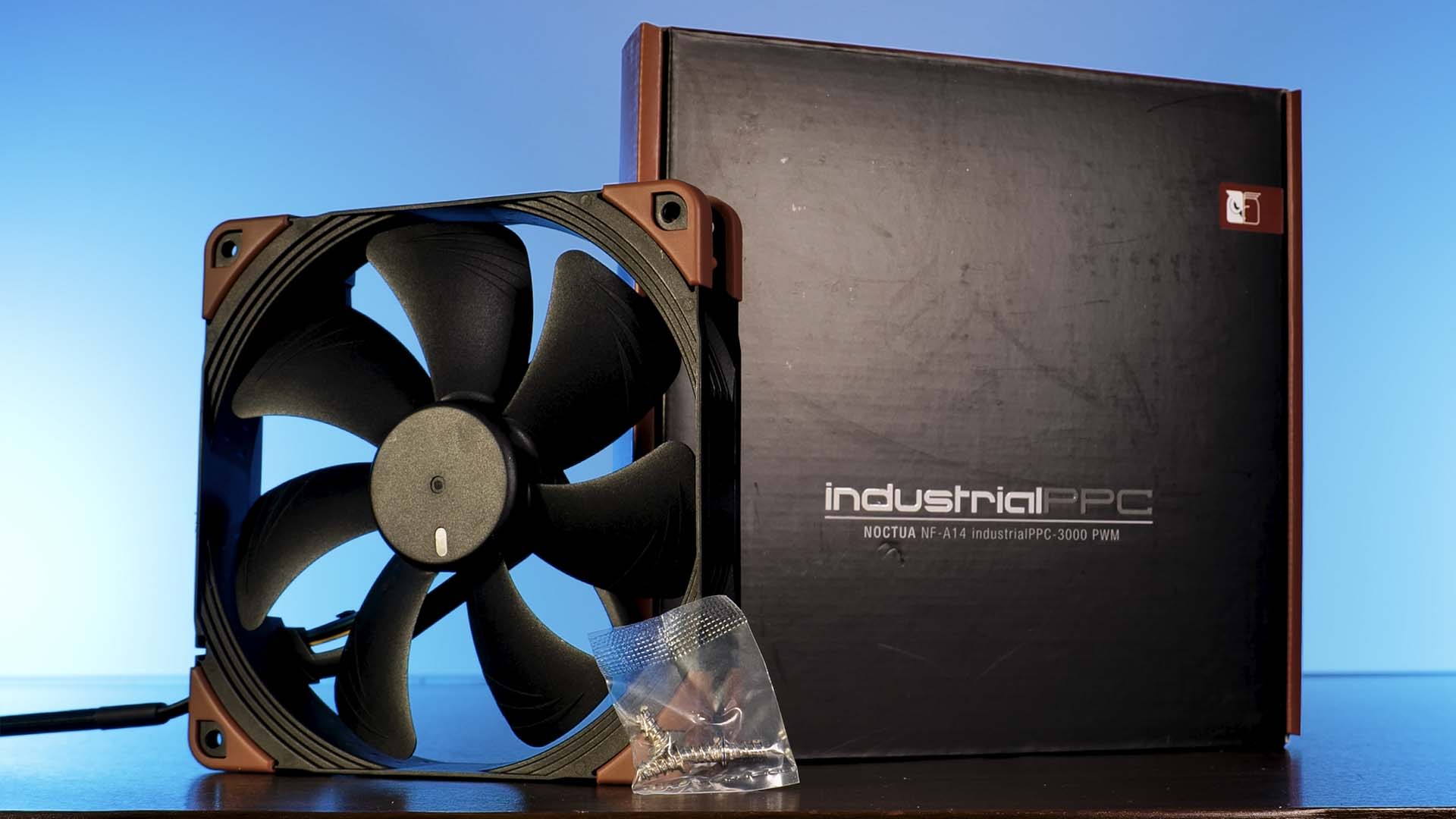 There are several versions of this fan available coming in different speeds, water resistance ratings, and connection types. For the purpose of this review, we will solely be focusing on the Noctua NF-A14 IndustrialPPC-3000 PWM model.
| | |
| --- | --- |
| Name | Noctua NF-A14 IndustrialPPC-3000 PWM |
| Size | 140x140x25mm |
| Speed | 3000RPM |
| Airflow | 269.3CFM |
| Static Pressure | 6.58mm/H2O |
| Noise | <41.3dBa |
| Connection | PWM |
| Bearing | SSO2 |
| RGB | NO |
Installation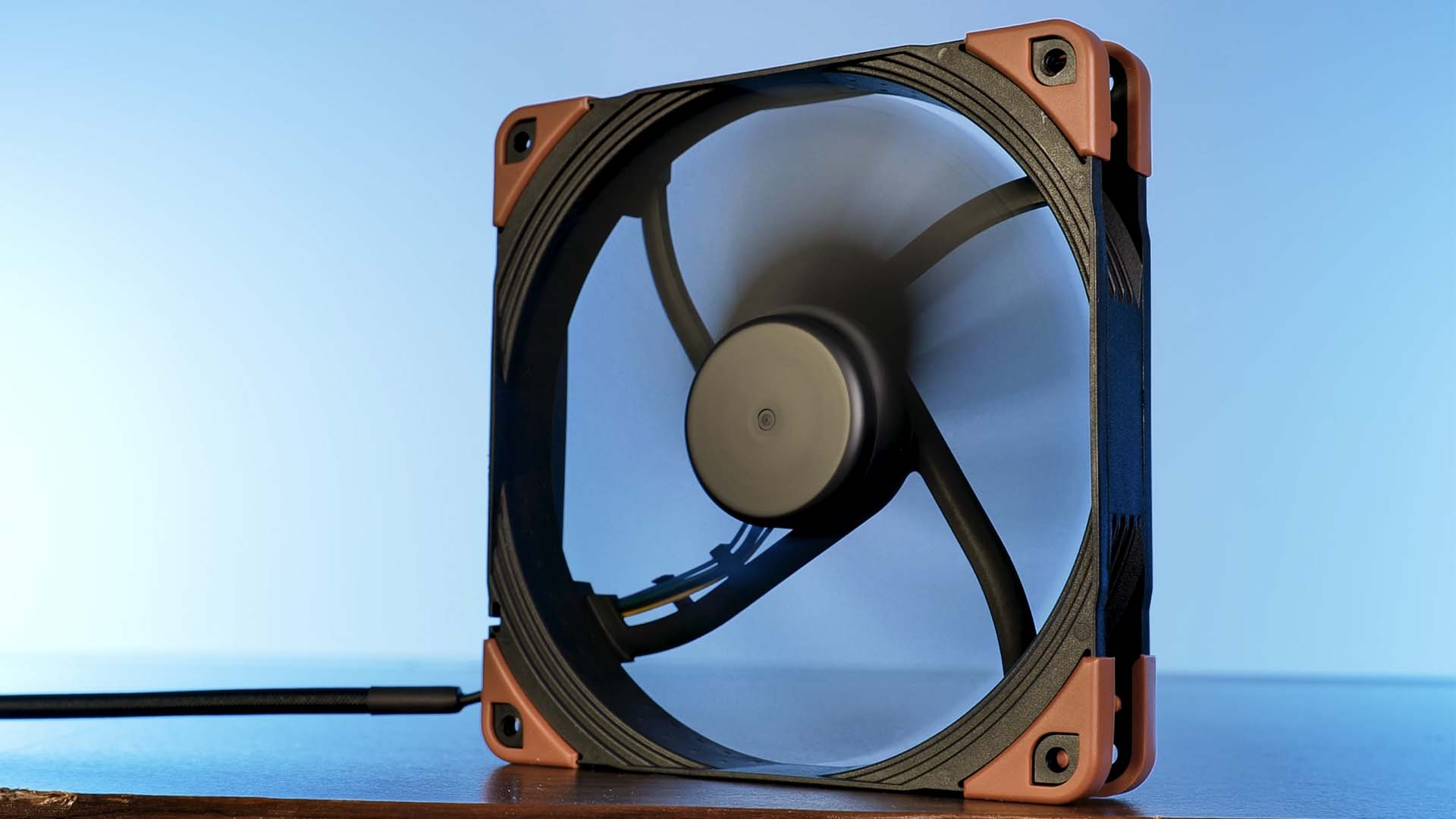 In an all-industrial style, the installation method is bare bones. Position the fan accordingly, and screw in the screws. -Done.
Each corner of the fan (front and back) is covered in a dark brown piece of rubber for additional noise and vibration absorption.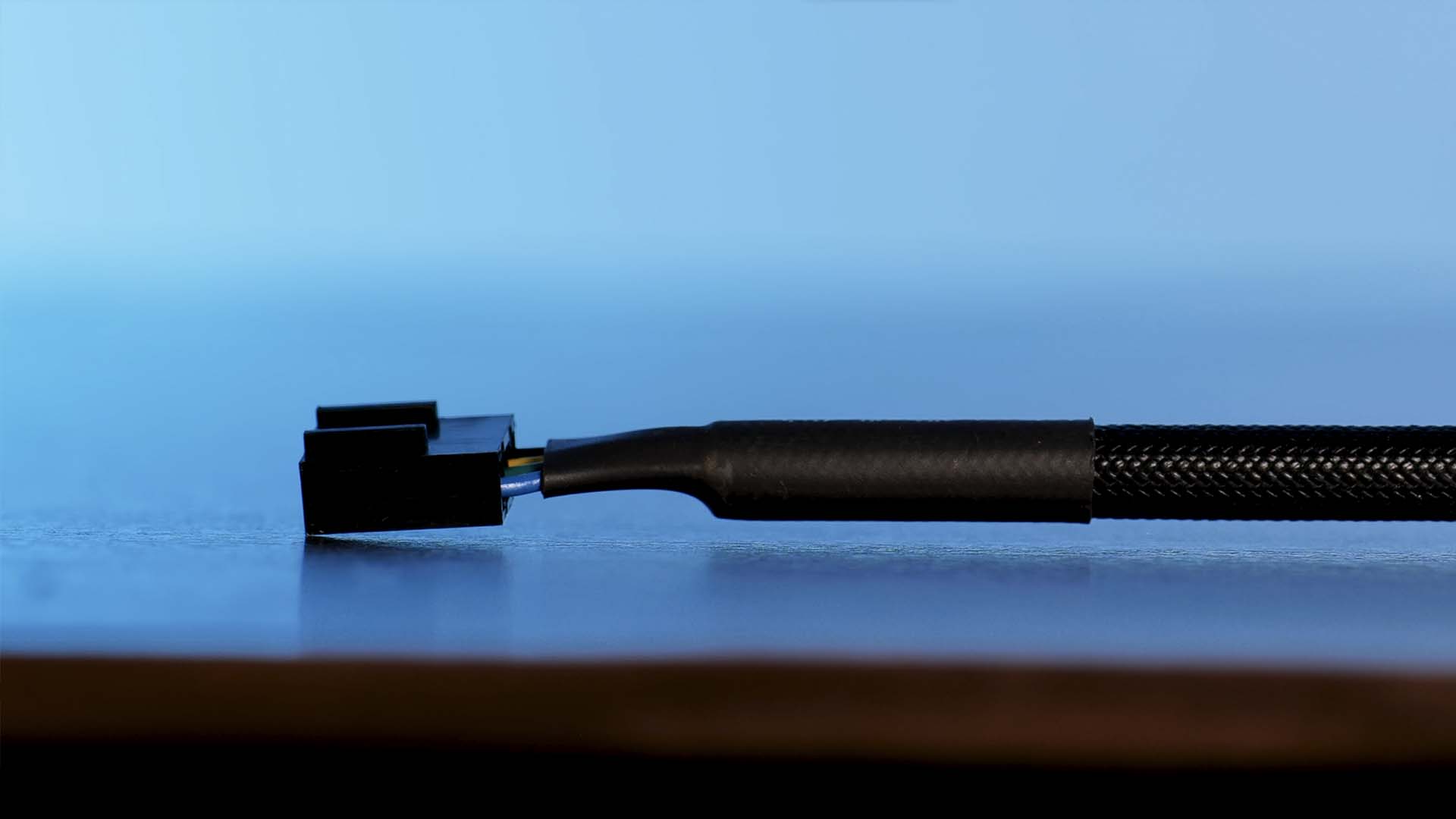 As the last installation step, we need to connect the 40cm long and nicely sleeved PWM cable.
Appearance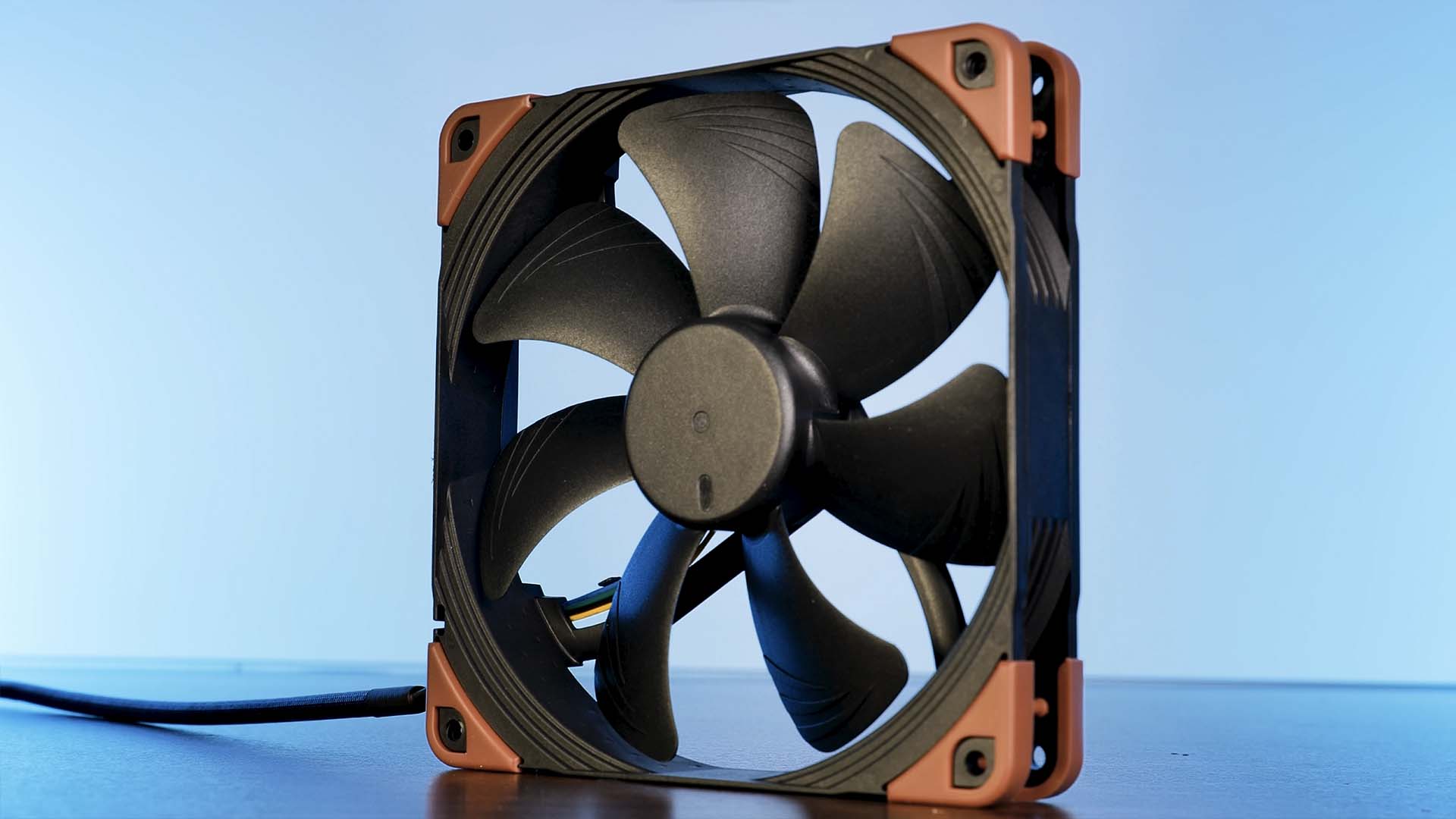 Very similar to the smaller Industrial NF-F12 Noctua fan, the bigger NF-A14 Industrial comes in an all-black with dark-brown colored accents. Very simple and highly utilitarian.
However, this doesn't mean that the fan has lost any features that make a Noctua fan a Noctua fan.
We still have the Stepped Inlet Design, Microstructures on the fan Frame, and Flow Acceleration Channels on the wings. All of these are minuscule optimization attempts to further increase the fan's performance while decreasing its noise. If any of those features are creating a meaningful impact on their own is hard to determine as isolating and measuring them seems impossible. However, considering how well Noctua fans are generally viewed and perform in independent benchmark results must mean that Noctua does something right.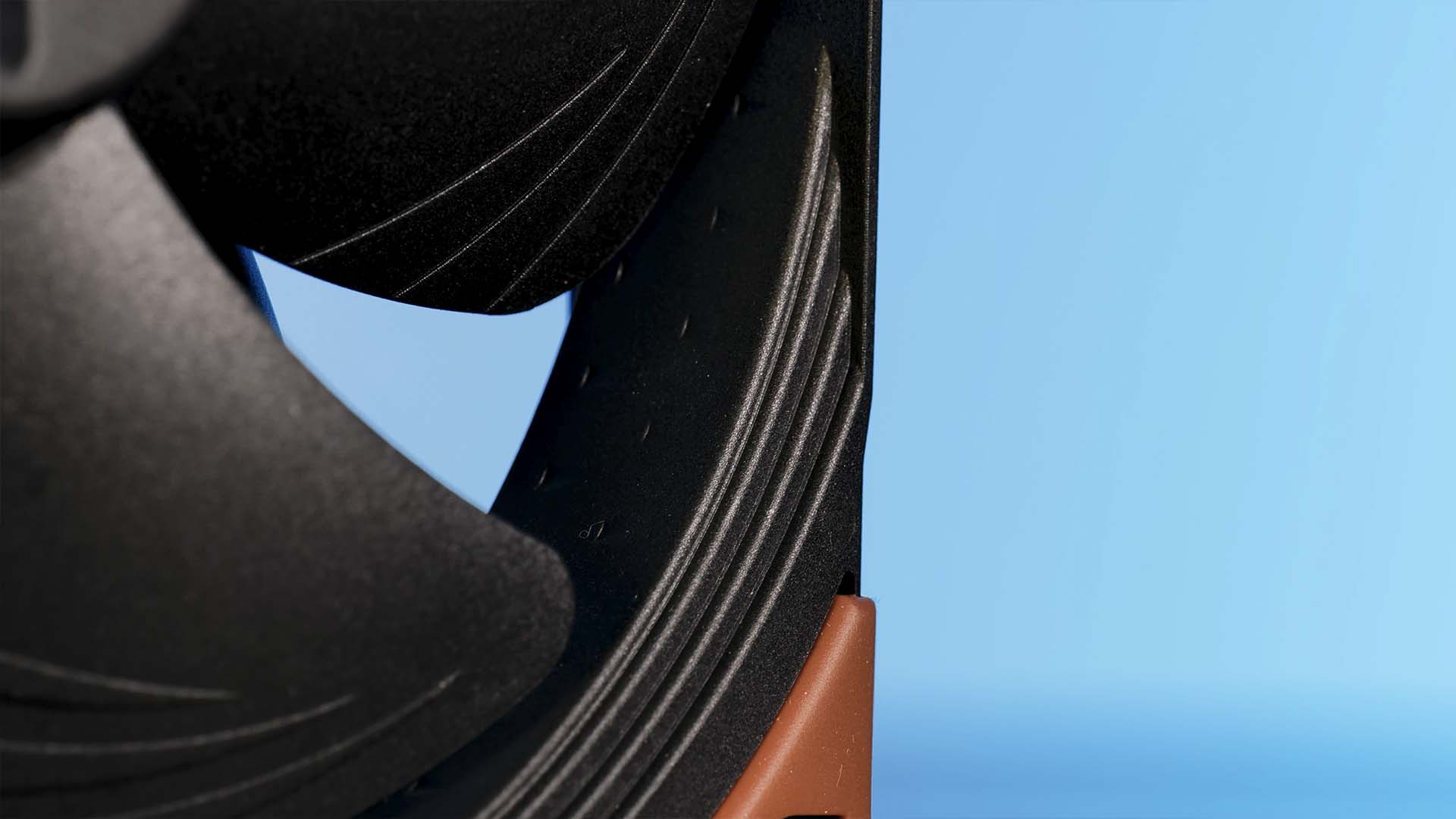 In contrast to Noctua's main lineup of fans, their Industrial lineup is treated with some additional features pushing the boundaries even further.
Every Noctua Industrial A14 fan is at least IP52 rated, meaning that it can withstand rainfall of up to 3mm per minute.
Additionally, the whole fan is made out of Fibre-Glass reinforced polyimide. This is a necessary step as the monstrous 3000RPM max-speed could potentially flex a regular plastic frame on its own.
And another often overseen additional is a changed motor design. Instead of a 4-slot single-phase motor design, the Industrial Lineup comes with a 6-slot three-phase design. This change may be hardly noticeable, however, if you spin the fan by hand, you will immediately notice the incredible smoothness of the fan's rotation.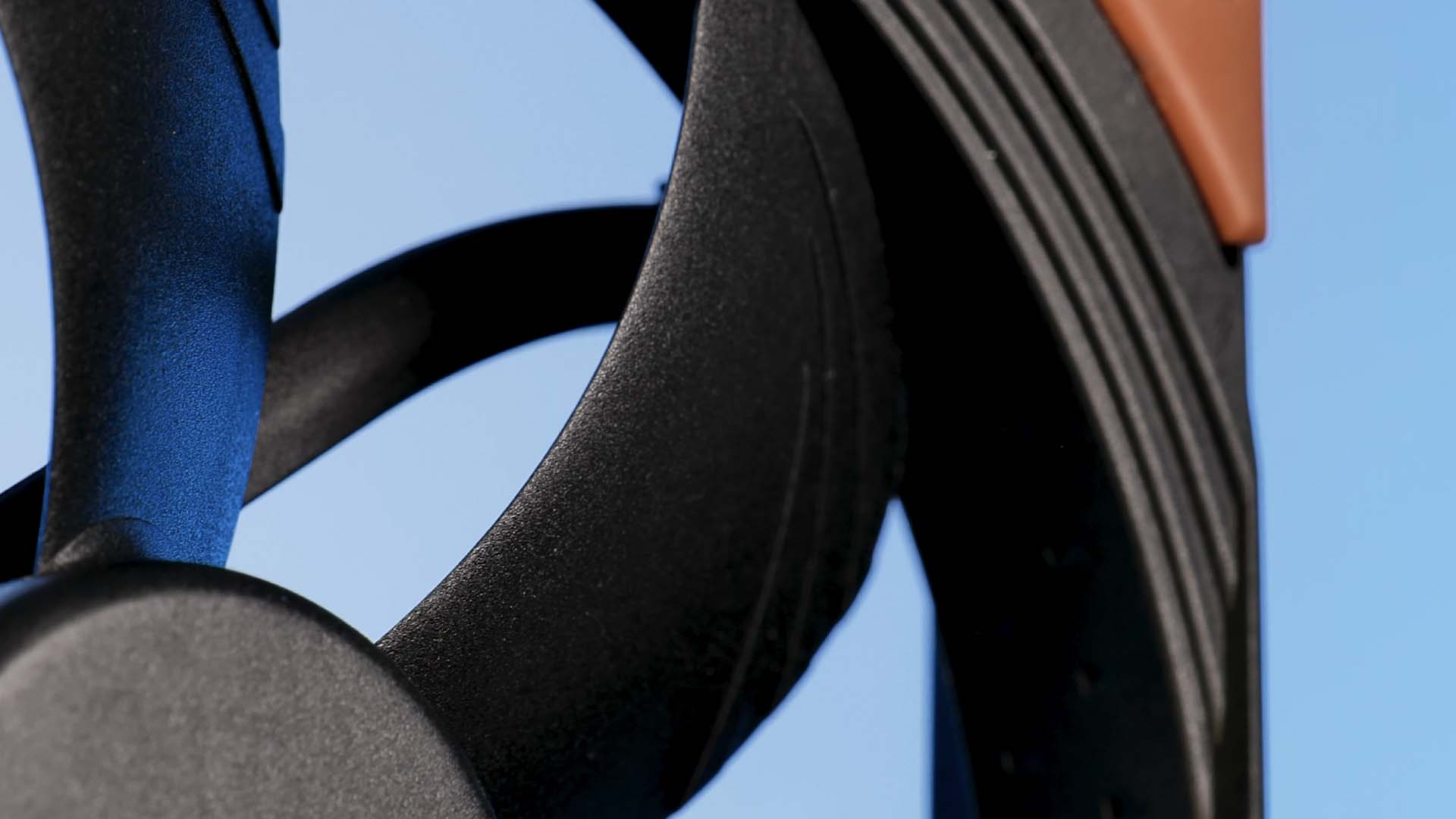 As far as the fan blade design is concerned, the NF-A14 Industrial follows exactly the same principle as their regular NF-A14. The 7 slightly bend and rather thick fan wings are a relatively good compromise of static pressure and airflow. 
Benchmark
Although a Noctua Industrial fan was never designed to be used inside a regular build, we benchmarked it using our usual Test-Setup.
Letting the fan spin at 100% of its max speed allowed the CPU to be cooled down to 33.2°C. This makes the Industrial NF-A14 the first fan to beat Noctua's previous record setup by their Industrial NF-F12. Truly an exceptional result.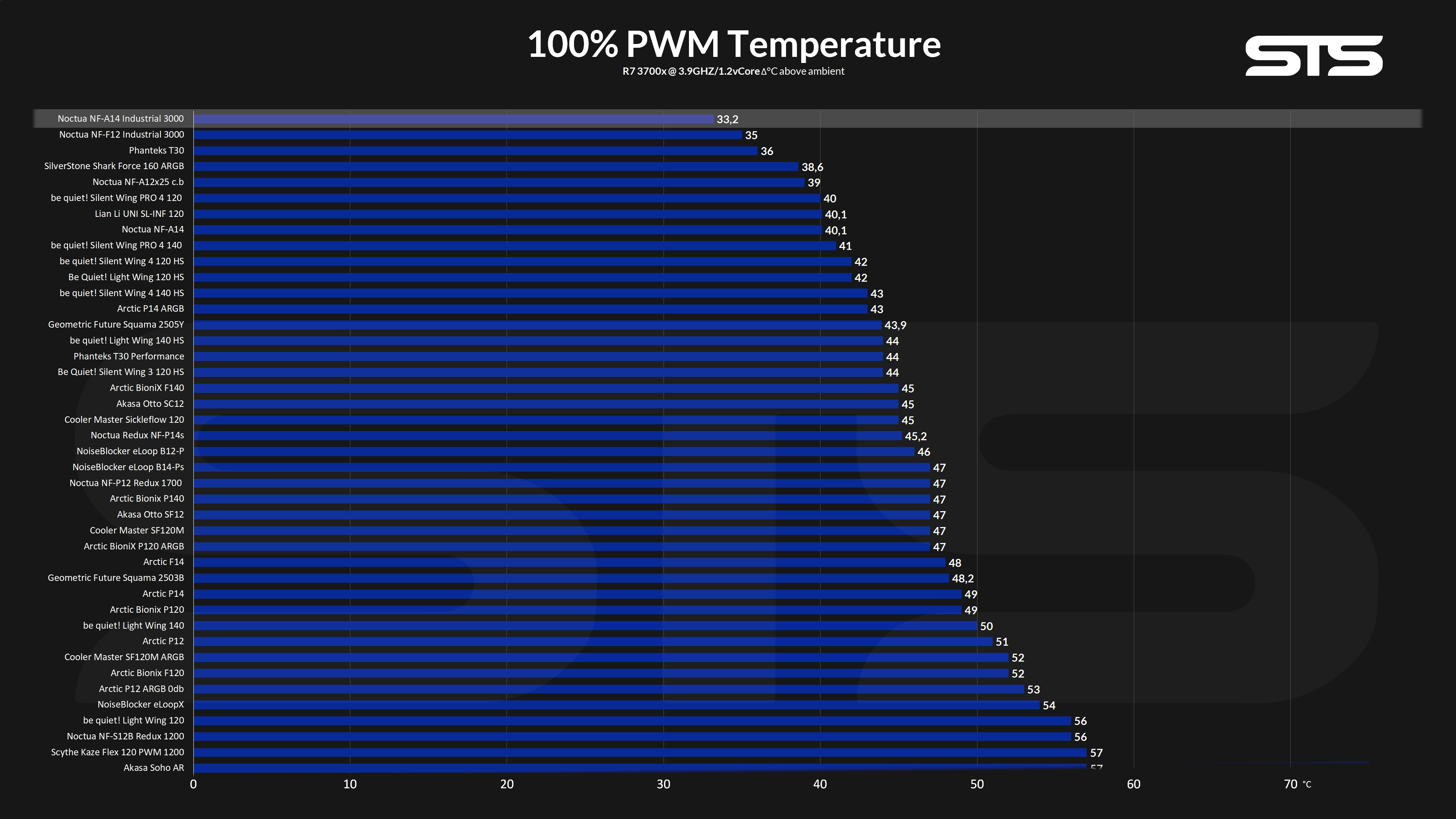 On the Noise-to-Performance chart, it doesn't look bad either. Comparing every 3000 RPM quick fan that we have tested before, it turns out that the NF-A14 Industrial has the absolute best noise-to-performance ratio from start to finish.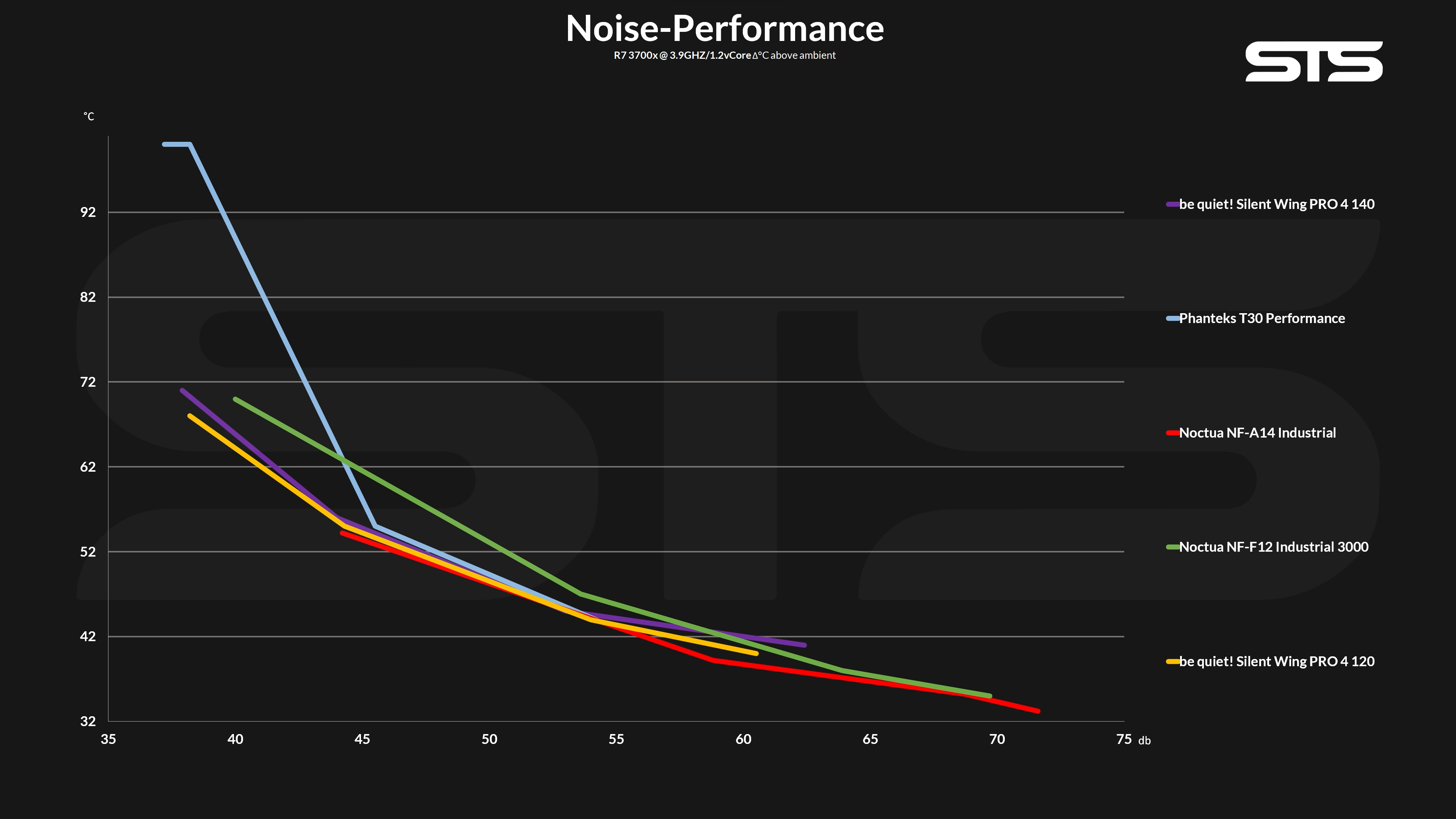 Once you add "normal speed" fans, we can quickly see that they were not able to keep up this insane ratio. However, considering all of our tested fans, they are still in the upper segment.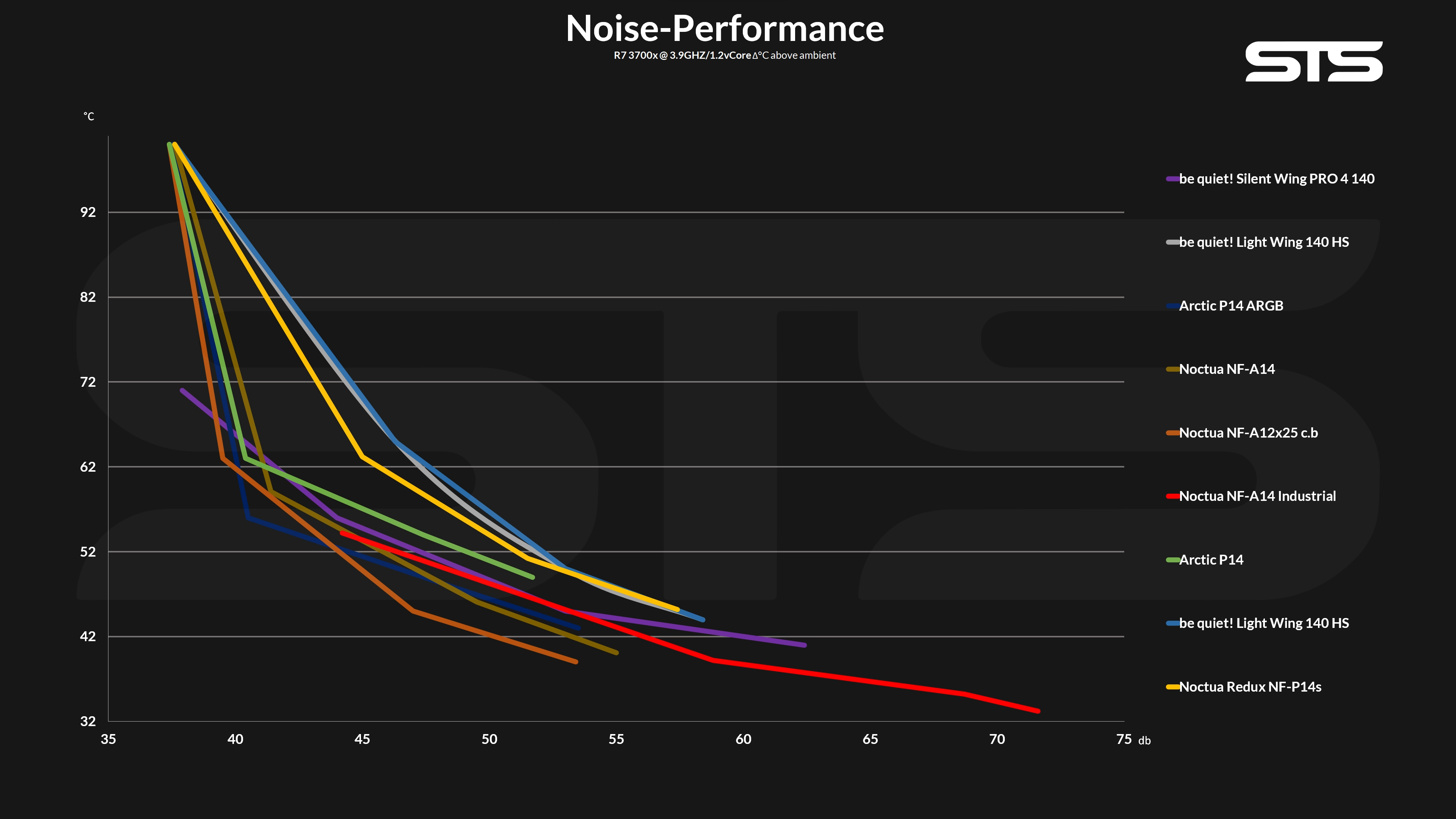 Conclusion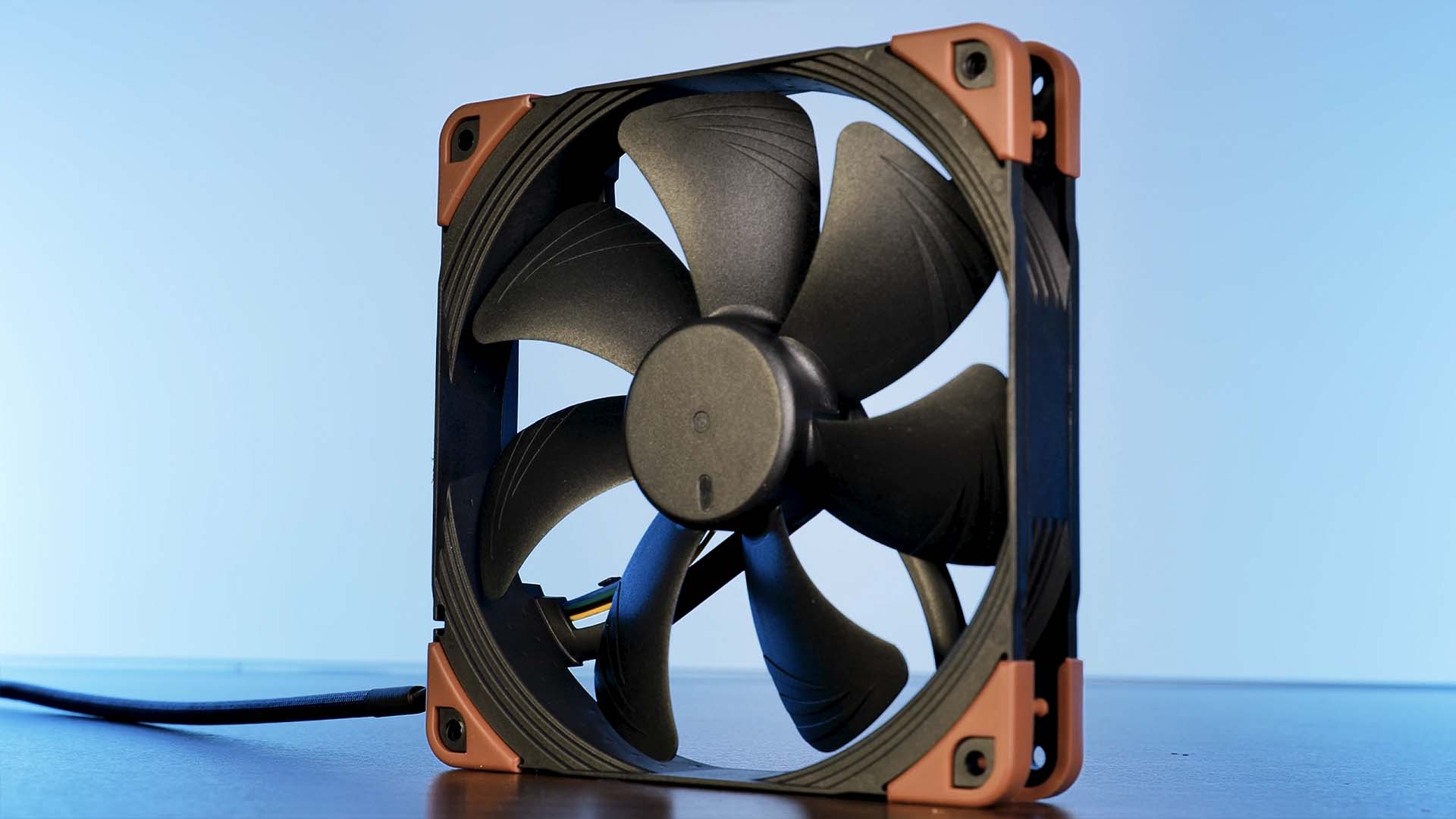 Just like the Noctua NF-F12 Industrial, their NF-A14 IndustrialPPC-3000 PWMs are insanely well-performing monsters. They pushed the boundary of what we believed to be possible while keeping a surprisingly good noise-to-performance ratio.
From a Build-Quality standpoint, they are exactly what you would expect from a Noctua fan, with the extra addition of being specifically made to withstand even the hardest workloads and conditions. No flexing on the frame, operational at uncannily hot temperatures, and quality at its peak.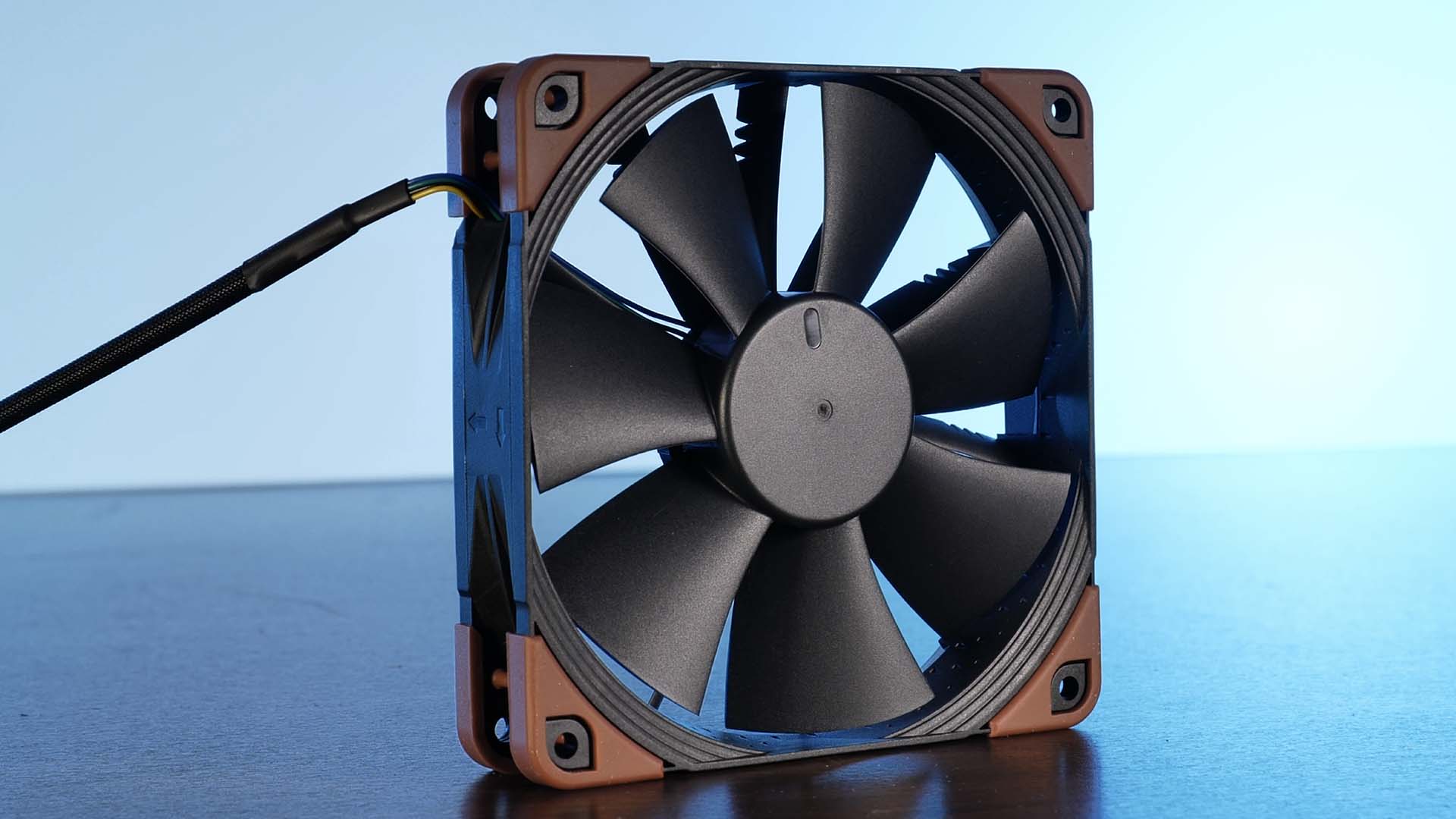 The surprising aspect for us, however, was that thanks to their A- style design, their noise-to-performance ratio inside regular builds was actually outstandingly good. Something that their NF-F12 Industrial counterparts did not manage to do.
Therefore, surprisingly, we can absolutely recommend the NF-A14 Industrial inside regular builds. However, not for every use case. If you are in search of the best Noise-to-Performance ratio, the NF-A12x25 are still the best option. In case you can settle for a very good Noise-to-Performance ratio, but you favor the additional performance overhead created by the 3000RPM fan speed, the NF-A14 IndustrialPPC 3000 are the right fit for you!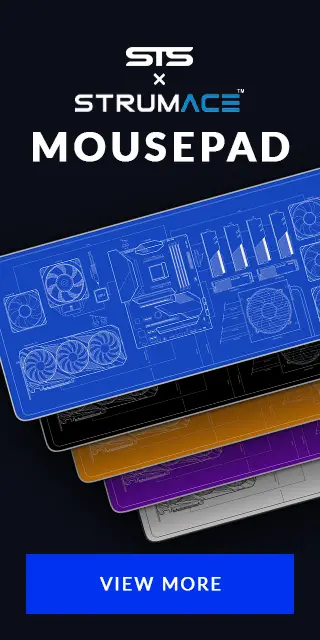 Top Reviews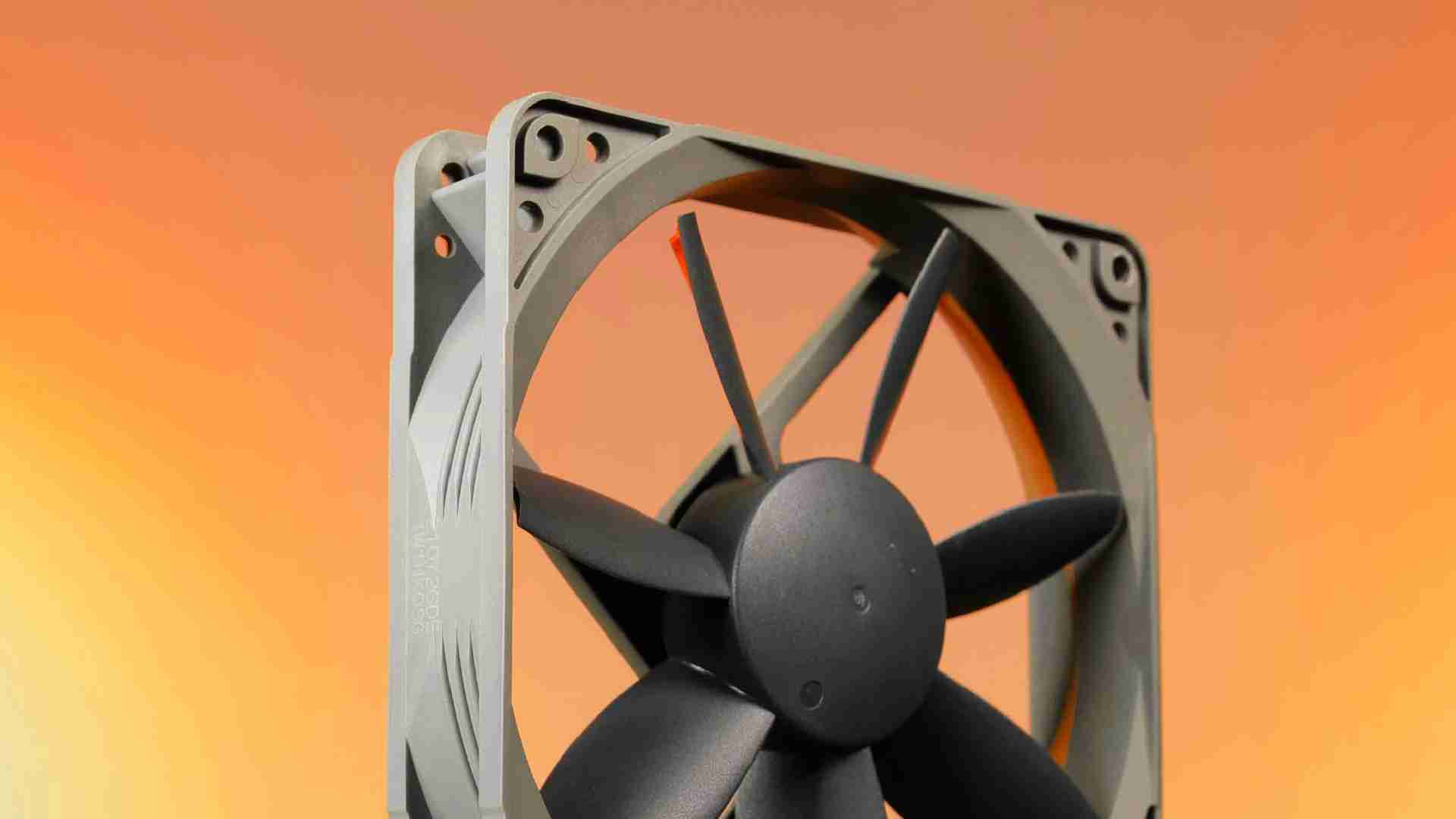 Noctua NF-S12B Redux Review
Noctuas Redux series of fans combines their excellent performance in build quality with an excellent price. Lets find out how
Read More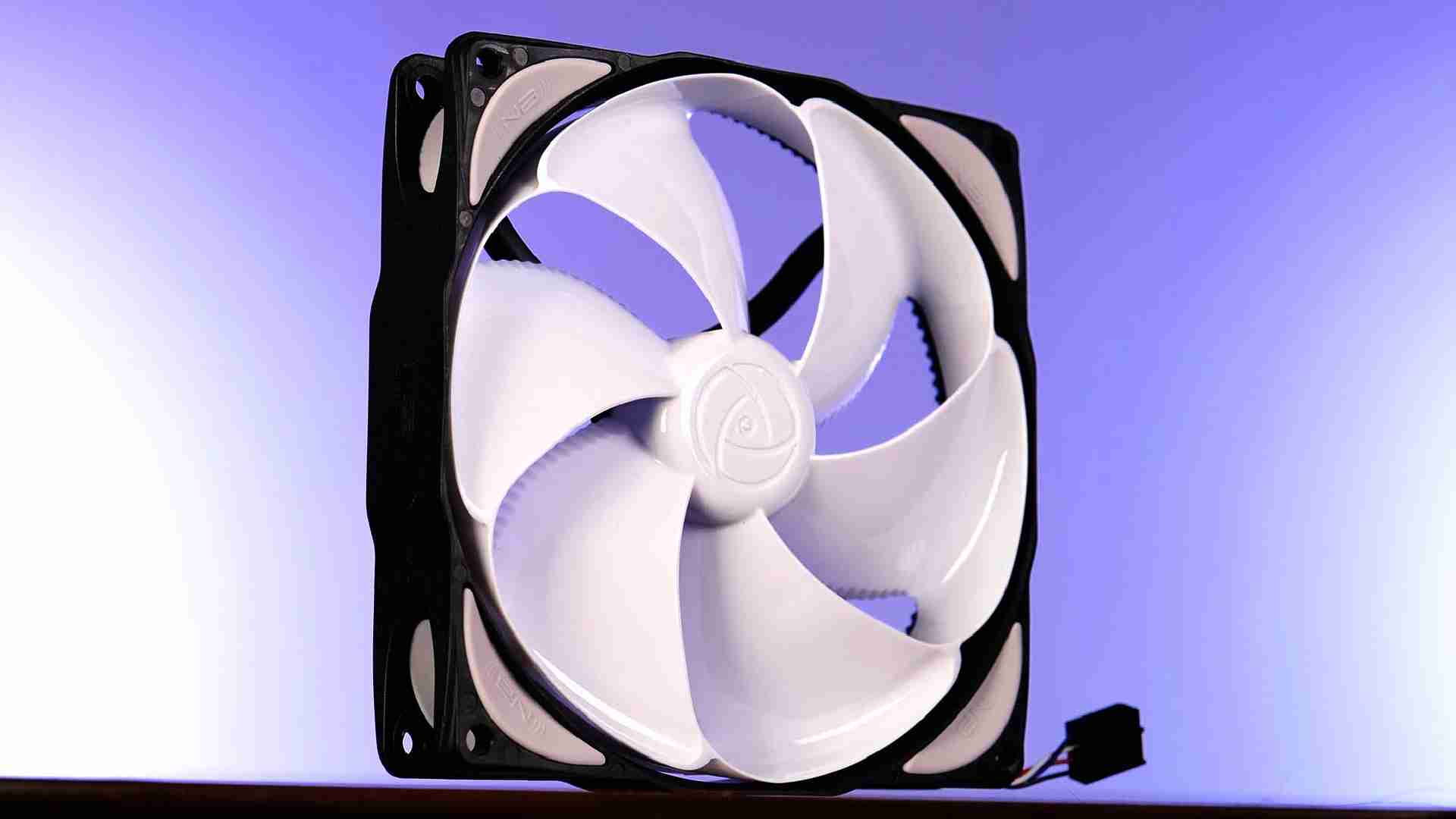 NoiseBlocker eLoop B12P Review
NoiseBlockers eLoop lineup of fans is probably the weirdest fans you will find until you fall out of the -regular- category.
Read More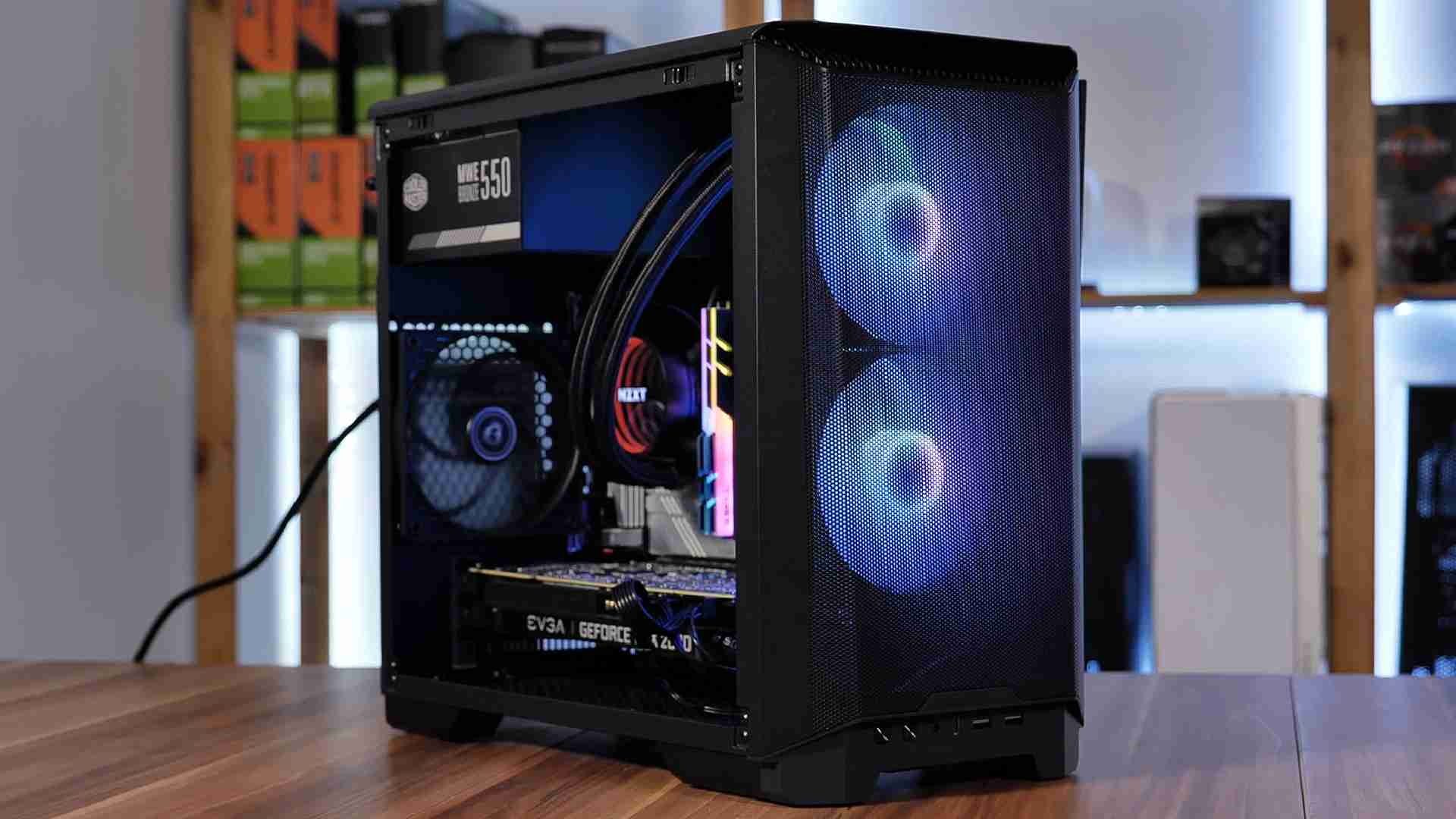 Phanteks P200A Review
Some (mini) cases try to maximize their compatibility, others try to have the best design... But if one thing is 100% sure, t
Read More
Recommended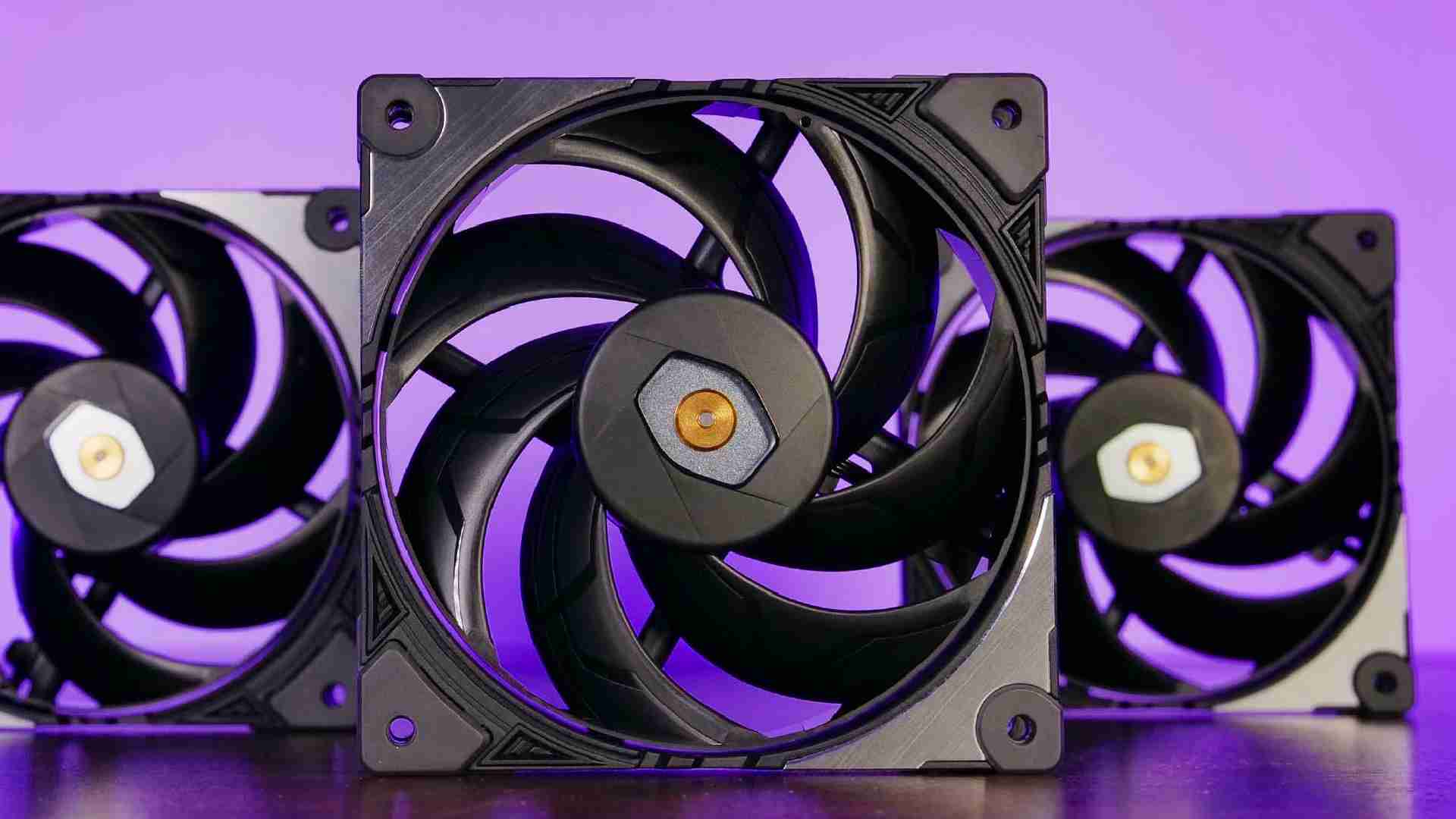 Cooler Master Masterfan SF120M
With the SF120M, Cooler Master tried everything imaginable to create the strongest, fastest, most air pushing, and overall be
Read More